About OCCU
Your membership makes a difference.
Hi. We're OCCU, a member-owned, not-for-profit financial cooperative located in Oregon and Washington.
That means, as a member, you are OCCU too.
And together, we're a force for good.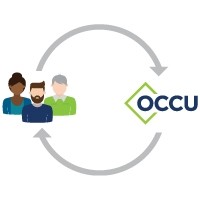 Why are we a force for good?
Because we follow the credit union philosophy of people helping people. Unlike a traditional bank, we're not beholden to shareholders. Our profits are invested right back into our members, our operations and the communities we serve.
That results in: 
Low and no fees.

Increased savings rates. 

Lower loan rates. 

Exceptional member service.

Earmarked community funds. 

Charitable giving. 
Your individual financial successes play a role in all this too. As a member of a cooperative, your deposits become loans to help the financial wellness of other members. When you take out a loan with OCCU, it's funded by the deposits of other members. People can buy houses and cars and start businesses and invest in themselves because you did the same. Pretty cool, huh?
It doesn't stop there. Our goal is to help people thrive — not just our members, but everyone in the communities we serve. Last year, through the OCCU Foundation, we gave more than a half-million dollars to fund initiatives that improve the health and well-being of others in our community. And we couldn't have done that without your support.
Interested in learning more about the impact you make? 
Our members matter.
Hear our members share what it's like to be a part of OCCU and the credit union difference.
Our vision and values guide us.
Our humble beginnings started with a group of state of Oregon employees pooling cash into a shoe box. We carry on our founders' vision of a better future for our members and communities.
Vision 
Enrich Lives. 
 
Values
Tenacious 
We're dedicated and show up for our members with care.
Humble 
We support a culture of helpfulness by serving our members and one another.
Big-hearted 
We're active in our communities and give our time to support our members and places we live.