We're committed to our members, staff and community. We support organizations that enrich lives in the communities we serve.
Passion meets action
We're passionate about being active in our community. Giving of our time is a part of the credit union history and our team culture. 

Volunteerism is so important to us that we allow our employees up to 40 hours of paid time to volunteer in the community. During the first week of employment, each new team member volunteers with a local nonprofit.

Our team has a reputation for going above and beyond. We're here to help with rolling up our sleeves to support our communities. We clean, sort, teach and share our career skill sets with nonprofits. 
Here are a few ways our team can volunteer:
Assembling meal kits.

Choregraphing dances for fundraisers.

Cleaning up and maintaining city parks.

Lending a hand at food banks.

Planting gardens to provide food.

Sorting donations at local shelters.

Staffing and participating in fundraisers.
Looking for volunteers to support your cause or organization? We're always on board to support new and unique volunteer opportunities. Visit our recruit volunteers page to learn more and submit a request.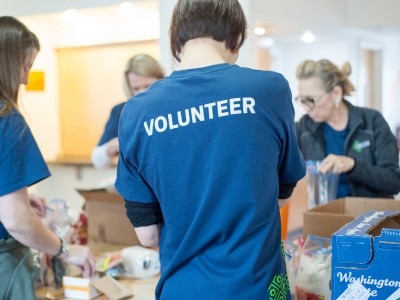 We host and take part in a variety of events throughout the year. We also partner with nonprofits to spotlight their fundraisers and donation drives. 

Ongoing events we host and support:
Benefit hikes, races and walks.
Blood drives.
Financial wellness courses.
Holiday toy drives.
Homebuying seminars.
Investment services seminars.
School supply collection.
Sensitive document shredding (Shred Fest).