We're here to enrich lives.
We measure our success by our members' long-term financial health. When you thrive, we thrive.
450
mortgage loans to help members purchase their first or next homes.
526
member impact loans for a total of $4.7 million to support members with needs big and small. "Our team continues to lean into our vision to enrich lives by taking the time to listen to your needs and offering options to support you. Sometimes this means taking the opportunity to look deeper than what a credit score, income or debt might tell us and learn from you on a personal level to explore ways we might be able to help wherever you are on your financial journey."
Ron Neumann, President & CEO
Building community resilience truly is a team effort — and together we've
done a lot of building this year.
41,066
new members
nearly doubling the previous
year's growth.
227,973
total members
each member-owner helps us become
stronger as an organization.
In 2021, we continued our efforts to reduce or eliminate many of the fees typically charged by financial institutions. We anticipate this will save our membership $1.8 million over the next year.
We've continued to expand our service area, our network of branch locations and the services we provide.

We began deploying video teller services at our ATMs.

"OCCU makes it easy to do what I need to do with my account. There's no hoops to go through in order to find my routing number, or anything else that I need to find. And when I need support, it has always been fast and respectful."
– OCCU member

"OCCU offers cutting edge technology and allows us to do all of our financial needs online. It's just easy to pay bills, deposit checks, check all accounts, transfer monies within our own system and a variety of other functions. We have been members since college days and will continue to enjoy this institution."
– OCCU member
"Even with continued COVID protocols and severely limited volunteer opportunities, the OCCU team still managed to support our nonprofit partners in 2021. Strong communities are the foundation of our future well-being — and when we invest in each other, everyone benefits."
Heather Billings, Chief Marketing Office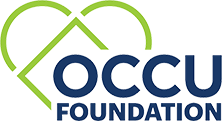 In 2021 Oregon Community Credit Union Foundation partnered with 32 nonprofits and donated more than $550,000 to organizations that are making an impact in our communities, including:
PeaceHealth Sacred Heart Medical Center Foundation
Parenting Now
Blessings in a Backpack
McKenzie Community Development Corporation
PeaceHealth Sacred Heart Medical Center Foundation
Parenting Now
Blessings in a Backpack
McKenzie Community Development Corporation
Ronald McDonald House Charities
Salem Health Foundation
Volunteers in Medicine
Project Hope of Lane County
"The funds the Hope Project received from the OCCU Foundation went right to work. With them we built sheds and provided tools for the people who had lost their homes in the Holiday Farm Fire to begin to rebuild. Just seeing that small shed on their property was a small ray of Hope that they would rebuild, they could make this their home again."
Ken Brown, Project Hope
Sponsorships funded through OCCU's branches, employee giving and corporate philanthropy: $113,992

"OCCU's involvement with the Real Men Wear Pink of Lane County campaign has helped move mountains, raising revenue and awareness which exponentially increases our impact on our fight against breast cancer. They have been exceptional to work with, providing donations and resources alike, which has made an incredible impact on our mission."
– American Cancer Society
Pictured: Brian Alfano, OCCU Chief Operations Officer, Real Men Wear Pink Ambassador

207
paid employee volunteer hours.
"OCCUF has invested to keep children safe and families together with us since 2011 – by providing hope for the holidays and joining us as a new 2021 Prevention Patron sponsor. We are quite honored to partner with OCCU!"
– Family Building Blocks,
Salem, Oregon
STATEMENT OF FINANCIAL CONDITION
Assets
 
Loans to Members (Net)
$2,239,050,188
Cash on Hand
$19,473,636
Cash on Deposit
$418,506,769
Investments
$64,034,821
Land and Building
$13,177,941
Furniture and Equipment
$5,483,093
Other Assets
$66,394,677
 
 
Total Assets
$2,826,121,125
 
 
Liabilities and Equity
 
Notes Payable
$5,199,000
Other Liabilities
$99,584,924
 
 
Total Notes & Other Liabilities
$104,783,924
 
Shares
$805,278,851
Share Drafts
$793,407,173
Money Market Accounts
$480,964,828
Certificate and IRA Accounts
$353,163,493
 
 
Total Member Share Accounts
$2,432,814,345
 
Total Equity
$288,522,856
 
 
Total Liabilities and Equity
$2,826,121,125
STATEMENT OF INCOME (as of 12/31/2021)
Income from Loans
$68,838,670
Income from Investments
$1,294,718
Other Operating Income
$39,752,453
 
 
 
Gross Operating Income
$109,885,841
Less Operating Expenses
$94,507,834
 
 
 
Income from Operations
$15,378,007
Plus Non-Operating Gains
$73,029,420
 
 
 
Income before Interest Expense
$88,407,427
Less Interest Expense
$10,702,848
 
 
 
Net Income
$77,704,579
As we move into 2022, we'll continue to focus on bringing even more value to your OCCU membership, serving as your trusted financial partner and meeting you wherever you are on your financial journey.
Chair and CEO report
JEANINE JENSEN, Board Chair and RON NEUMANN, President & CEO
Bringing you value
Just two years ago, under the guidance of our Board of Directors, we restated our vision - Enrich Lives. We are passionate about delivering on this vision and together we work to ensure that your best interests are at the forefront of everything we do.
Read More
It goes without saying that the past few years have brought unexpected challenges to us all, but we are pleased to say that OCCU has remained a safe and sound financial institution. When many organizations found it difficult to consistently provide services, retain staff and grow, OCCU continued to thrive. We introduced new products and services, added team members throughout the region and expanded our branch footprint. We know this would not have been possible without an exceptional team and the trust that you have placed in us.
Our commitment to adding value also bolstered our desire to eliminate and reduce account fees. Most notably, in 2021 we reduced our extended overdraft fee to just $9 (among the lowest in the nation) and eliminated or reduced a variety of other fees. In total, the changes made in 2021 alone will keep more than $1.8 million in our members' pockets over the course of a year and we're not stopping there - watch for more reductions and eliminations in the year ahead.
We believe your feedback is critical to meet your evolving needs, so each month we survey members to learn how we can more effectively support our membership. Guided by these insights, we have added drive-up services; expanded our business and investment services offerings; continued to enhance MyOCCU Online & Mobile; and introduced video teller technology through our ATMs.
We believe the relationship with our members is a partnership. In the past year, we focused on making an impact for our members by meeting them where they are and seeing them as individuals, over and above standard lending guidelines. We approved small loans for more than 500 members (who might not otherwise qualify for traditional loans) to purchase new eyeglasses, care for an ailing family pet or make emergency vehicle repairs. Our team takes the time to listen, ask questions and get creative to walk beside you regardless of your situation.
Looking ahead, we will embrace new opportunities to enhance the value of OCCU membership. We will continue to offer competitive deposit and loan rates, while also expanding our mortgage lending and business services capabilities, enhancing our credit card experience with new features and enhanced rewards offerings and continuing to enhance our ATMs, online banking and mobile app. 2022 should prove to be another exciting year with many new projects and initiatives. For example:
We are adding branch locations – we'll open a full-service branch in Junction City later this year and have begun work on a new branch location in Corvallis. We are excited about joining these communities and continue to explore other potential locations to better serve you.
Mid-year, we will convert our credit card platform to a new processor. This change will allow us to improve and optimize your digital experience by offering a more tightly integrated connection into MyOCCU Online & Mobile banking. We will also be able to bring you new features such as contactless cards and enhanced rewards offerings.
The online loan payment experience will become easier, and we'll introduce new options such as person to person payments.
More self-serve options will be added to our online channels to allow you to do your banking on your schedule.
We're exploring home and auto insurance products to help provide affordable alternatives to bring you peace of mind.
The OCCU Foundation will continue to invest in other nonprofits and important initiatives to help our communities thrive.
These are just some of the exciting enhancements we're working on for 2022. They are the result of the feedback you've shared and the insights you've given about how we can meet your evolving needs. You are the reason behind everything we do, and we are honored to have the opportunity to enrich your life, as well as that of our future members and the communities we serve.
With deep appreciation,
Jeanine Jensen
Board Chair
Ron Neumann
President & CEO
Dedicated to safety and soundness
JACOB SIEGEL, Supervisory Committee Chair
The OCCU Supervisory Committee is appointed by the OCCU Board of Directors from among the members of OCCU. The Committee acts as our members' representative in monitoring the operations of OCCU, making sure it is soundly managed.
Read more
The Committee's role is to ensure that an annual overall financial audit and verification of members' accounts is performed, and that OCCU has adequate internal controls in place to provide for the safety of member assets. The Committee reviews all audits and reports any significant findings to the Board of Directors.
The annual financial audit and verification of members' accounts for 2021 were completed by professional services firm Moss Adams with an effective date of Sept. 30, 2021. Their formal opinion letter confirmed that the financial statements fairly represent OCCU's financial position.
In addition to the verification of members' accounts and annual financial audit, the Committee also reviews all internal audits. These audits were performed by the firm Doeren Mayhew in 2021. OCCU management continues to respond promptly to mitigate any operational issues as they arise.
OCCU's systems and controls are strong and effective in ensuring the safety of member assets.
On behalf of the Supervisory Committee, I would like to thank the Board of Directors, management and staff for their work. Their efforts are greatly appreciated.
Jacob Siegel
Supervisory Committee Chair
"I've done my banking at OCCU for over 20 years and have appreciated the friendly, professional and personal service the entire time. Service in person and by phone has always been excellent. Feels like banking in a small town. Great people and service always!"
— OCCU member
BOARD OF DIRECTORS
Jeanine Jensen
Chair
Beverly Anderson
Vice Chair
John Gogol
Secretary
Bill Inge
Director
Tom Larson
Director
Genevieve Parker
Director
Ron Neumann
Treasurer, OCCU President & CEO
ASSOCIATE BOARD MEMBERS
Sarah Hagen
Rick Varnum
SUPERVISORY COMMITTEE
Jacob Siegel
Chair
Jackie Rice
Vice Chair
Justin Freeman
Lauren Jerome
Ellen Manzer