5 tips for getting the best deal on an auto loan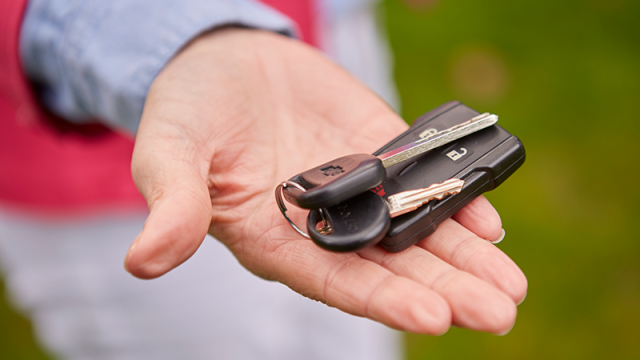 OCCU

-

03.03.2017
You finally found the perfect car. It rides like a dream and fits you like a glove. It's almost within your budget, too, once you talk the price down a little.
You walk into the dealership, armed with vehicle reviews and ratings. Just as you're about to start negotiating, the sales rep asks, "What kind of monthly payment can you afford?"
A surprising number of people are unprepared for this question. Most car buyers spend up to 27 hours researching their purchase but put little thought into the terms of their auto loan. The truth is, getting the right auto loan is as important as getting a deal on the car itself.
To get the deal you want on both your car and your auto loan, there are a few things you need to know.
1. Pre-approval gives you the upper hand.
Financing a car involves two separate negotiations: the price of the vehicle and the terms of the loan. To get the best deal on each one, you want to handle them separately. Yet as many eight in 10 car buyers try to negotiate both at the same time.
Getting pre-approved for an auto loan gives you plenty of time to shop around for the best loan before you have to make any on-the-spot decisions about buying a car. You'll know ahead of time what interest rate you qualify for, what your monthly payment will be and what loan terms you need to achieve it. Plus, when you have your pre-approval in hand it's like sailing into the dealership with a big wad of cash. Not only do you get a better deal on your loan, but you also have leverage for negotiating a better price on your car.
2. The true price of a car is the loan's total cost.
Buyers often get hung up on the sticker price of their car. But that doesn't tell you how much it will ultimately cost. To decide whether you're getting a good deal—and a car that's within your budget—you need to calculate the true price, which is the total amount you'll end up paying over the life of your loan. This amount will vary based on:
Your annual interest rate
How long it will take to pay back
Let's say you finance a $15,000 car at 6.5 percent APR. On a 36-month loan, you'll pay an additional $1,550 in interest for a total of $16,550. A 60-month loan can reduce your monthly payment by nearly a third, but you'll pay an additional $1,060 for a total loan cost of $17,610.
3. Your monthly payment determines what you can afford.
For many car buyers, the monthly payment is the number-one factor in deciding whether they can afford a car. That's how much you'll need to fit into your monthly budget. Your monthly payment is calculated based on:
Total loan amount
Annual interest rate
How long it will take to pay back
If you financed a $15,000 car with a 2.99 percent APR for 60 months, your monthly payment would be roughly $269. But if you qualified for 1.99 percent instead, your payment would go down to $262. Increasing your loan term to 72 months could drop the monthly payment down to $221, although you'd end up paying more interest over the life of your loan.
Our loan calculator can help you easily figure out how to achieve a monthly payment you can afford. It can also help you decide how much car your budget can handle. After that, consider getting pre-approved so you can shop for your car without worrying about the details of your loan.
4. Credit unions offer the lowest rates.
When you spend time shopping around for the best deal on a car, it doesn't make sense to drive up the final price by taking the first auto loan you can get. Lenders within a mile of each other may charge wildly different interest rates, so it's important to shop around—and not just at dealerships.
If you want to get the best rates, check with your community credit union first. Since we're not-for-profit organizations, we're able to offer rates 1 to 2 percentage points lower than competing banks. "Credit unions and community banks are the best place to start," says CNBC.
5. A shorter loan costs you less in the long run.
Cars are getting more expensive. The average new-car loan topped $30,000 for the first time last year. Average payments are going up, too, exceeding $500 a month. To compensate, car loans are getting longer, averaging 68 months. The most popular auto loans take up to seven years to pay off.
A longer loan repayment term can lower your monthly payment, but it will also drive up your total loan cost. The extra time it takes to pay it off can cost you hundreds or even thousands more in interest. It will also take longer to build up equity in your car. With a 60-month loan, for example, it might take 18 months or more of payments before the car is worth more than you owe on it.
Now that you have a few tricks up your sleeve, you're ready to go out and negotiate a great deal on your next vehicle—and your next auto loan.