Meet the OCCU team: Roseburg branch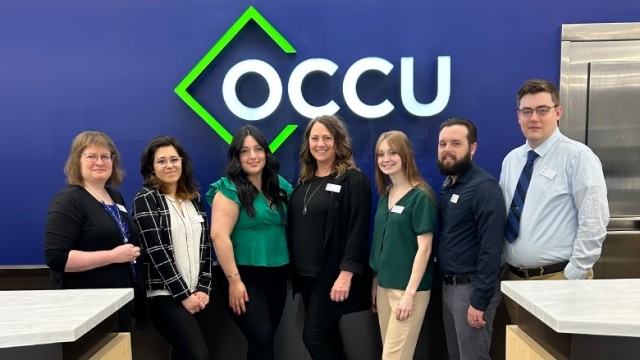 OCCU

-

05.17.2023
At OCCU, our vision is to enrich lives. Those of our members and our community.
In this effort, we strive to meet our members where they are. This could mean expanding digital services so members can manage their finances on the go. Or finding new ways to make buying a home in their neighborhood easier. Or it could mean finding solutions for members in difficult financial situations.
And sometimes, quite literally, it means branching out and planting roots in new places. That's why we're opening a new branch in Roseburg this year. Becoming a part of the community we serve allows us to fully live out that vision.
Enriching lives, together
"Enriching lives means being involved in the community and making a difference," Roseburg regional branch manager Ali Spens said. "We add value to our members' lives by helping them achieve their financial goals."
Our vision is to help you thrive. To reach your financial goals. To buy a home. To invest wisely. To save for vacations, college tuition, your future! And when you do, because you're a member of OCCU, others thrive too! Your deposits become loans for other members. And their deposits fund your loans as well. People are able to buy houses and cars and start businesses and invest in themselves because you did the same. 
That's part of the credit union difference. And it's part of what makes you a force for good.
Growing together
This new branch in Roseburg means we can do more. For our members, for the local economy and for the community at large. It gives us the ability to meet with our members face-to-face when they need us — in our new branch, and through our video teller service, which is up and running at our branch ATM. Members also have around-the-clock access to their accounts through MyOCCU Online & Mobile, which is an invaluable connection that helps to build a stronger, more resilient community as well.
But our new location isn't the only way we're branching out. Our team is branching out as well, both professionally and personally! "I will be new to Roseburg," assistant branch manager Andrea Mora said. "I look forward to making a positive impact in the community."
Supporting our neighbors
Because that's what it's all about — community. And that extends beyond just our membership. A thriving economy is vital to the financial success of a community, and we work closely with local businesses to ensure they have the financial tools they need to succeed as well. And through the OCCU Foundation we work to create a lasting impact on the regions we serve, partnering with donors, nonprofits and academia to help our neighbors live better, learn more and innovate for the benefit of all.
Our new branch means we can find new ways to serve Roseburg — as a credit union and as a member of the community.
"At OCCU, everyone is in it to genuinely help our members and the communities we're in," Andrea said.
"I look forward to helping Roseburg thrive and making a positive impact," Ali said.
Come meet our team at our grand opening and find out how OCCU can help you meet your financial goals.
Find us at:
780 NW Garden Valley Boulevard, Suite 61
Roseburg, OR 97471
Need directions? Click here to view a map.