Make this school year the best yet for local kids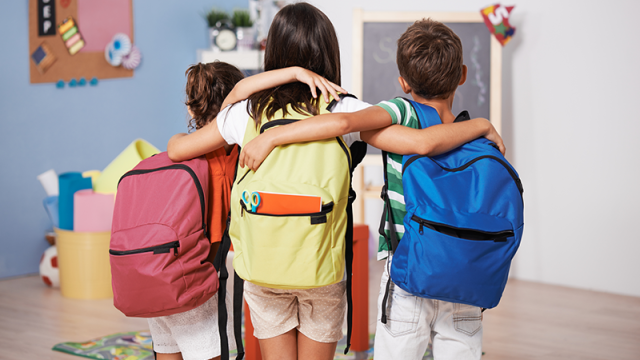 OCCU

-

08.04.2016
Remember the excitement of new school supplies? A new stock of school supplies ushers in the start of a new school year – Sharp #2 pencils, fat pink erasers and an assortment of notebooks with your favorite character.
Oregon Community Credit Union is partnering with St. Vincent de Paul and Brattain House in Lane County and Salem Assistance League Auxiliary in Marion County to ensure all children have the supplies they need for school. In the month of August, all OCCU branch locations will be offering the opportunity for you to support the effort by giving $1 donations in exchange for a paper backpack with your name on it to be hung in the branch. All proceeds go to fund school supplies for low-income children in Lane and Marion County. OCCU is also collecting donations of school supplies, which will be distributed to families in need the week before school starts.
Arleis Romero, a single mother of five children, says the Backpacks for Back to School program has been invaluable to her family. Five years ago, Romero realized that buying school supplies for several children while earning minimum wage was going to be difficult, if not impossible. Romero's children were able to go to St. Vincent de Paul and pick out their own backpack and get it ready for school. "It made them feel ready and happy to go back to school," she says. "It helped me a lot, too. There are not a lot of places who help out in this way."
Now, Romero's children are between ages 1 and 13 years old. She works full-time as a receptionist at St. Vincent de Paul. Romero and her children were so appreciative of the program, they started volunteering their time to sort and fill backpacks for other children. "They really enjoyed it," Romero says, "and were grateful to help."
Ashely Hensley, Community Engagement Coordinator at St. Vincent de Paul, says this is the society's 17th year of the program and estimates that they will provide school supplies to between 2,500 and 3,000 students in Lane County. 
"A new school year can be an especially stressful time for families with all of the additional costs and it's not uncommon for children and parents to have to make hard choices about what necessities are the least important," says Hensley. "Starting the year off unprepared and without the basic tools needed to be successful puts many children at an even greater disadvantage. The school supply drive helps ensure children have one less obstacle to face and can begin a new year feeling better prepared while easing some of the parent's burden."