Zero reasons to wait
With our 100% home loan financing program there's no reason to delay your dreams of home ownership any longer. You'll be home sooner than you thought possible with zero down and zero mortgage insurance.18
Benefits of 100% home loan funding
 
No down payment is required. 
Save money without having private mortgage insurance. 
Loan servicing stays with OCCU for the lifetime of the mortgage.
See current rates or connect with our team to learn more.
Available for new homeowners
OCCU's new 100% mortgage financing offer is available on primary residences only, so it's a perfect fit if you're a first-time homebuyer or if you've recently relocated to the area.

Send us a message to learn more about the program and to see if you qualify!
Ask us your homebuying questions
We're here to guide you through every step of the homebuying process and answer your questions. Send us a message to get started.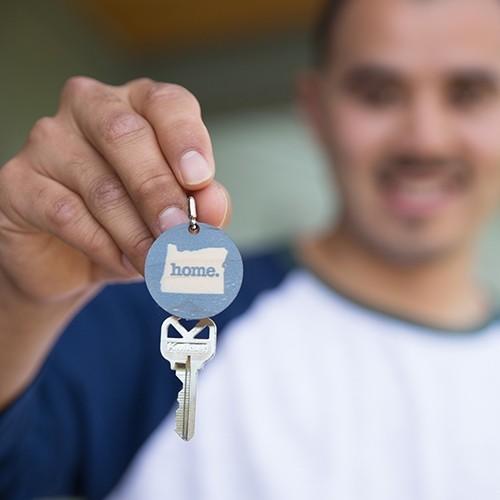 Take homebuying one step at a time
Navigate the steps toward home ownership with OCCU's Homebuying 101 Center. Walk through the entire homebuying process, from pre-qualification to getting your keys. By the end, you'll have a clear picture of what to expect on your homebuying journey.
Lock in your rate while you shop
Looking for a home but worried that interest rates could rise? We have the solution to give you confidence while you shop in today's housing market. Learn more about our new Lock & Shop program – an OCCU mortgage lending benefit that lets you lock in your interest rate for up to 90 days. Contact our mortgage team today to learn more.27
Have questions?
Want to learn more about our home loans? Let's connect!
18Standard closing costs and prepaid escrows apply. Borrower is required to contribute a minimum of $1,000 and can be used toward closing costs. Borrower must have a minimum 680 credit score, other credit qualifications, conditions and restrictions apply.
27Lock and Shop agreement is not a loan approval or loan preapproval; borrower must qualify and be preapproved for loan; loan must close and fund no later than lock expiration date to receive the rate shown in the Lock and Shop agreement; rate lock not available on all OCCU loan programs; Lock and Shop rate and points are subject to change based on certain loan factors including, but not limited to, the loan amount, property value, credit qualifications, occupancy and property type.