Could your checking use an upgrade? It's remarkably easy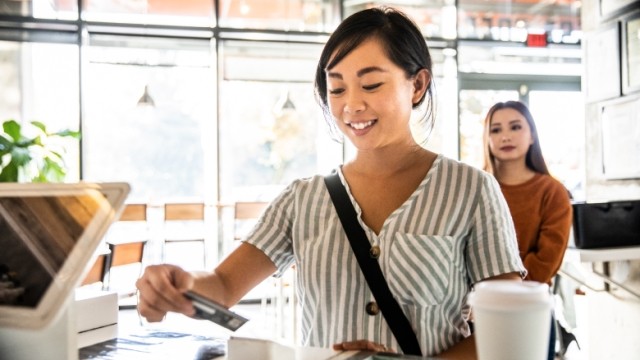 OCCU

-

02.22.2023
A checking account is more than just a way to fund the checks you write (if you still write them). It's a central hub for most of your financial activity. Your debit card purchases, your online bill payments, your transfers — there's a good chance that your checking account is doing a lot of heavy lifting.
But can it do more?
Yes, it can.
A high-yield checking account allows you to earn more interest than a traditional account. That means more money in your pocket to spend on (or save for) things that matter to you.
A traditional checking account from OCCU is a financial workhorse. But Remarkable Checking? That's a financial unicorn. It's a free checking account with no fees or minimum balance, unlimited ATM usage* and a top-of-market interest rate that lets you earn while you spend. Plus, Remarkable Checking comes with up to a 4.00% annual percentage yield (APY)** on balances up to $20,000, and .20% APY on balances greater than $20,000 for the first six months.
It helps you make your financial dreams come true.
How do I get the best interest rate?
To earn the most possible interest on your Remarkable Checking account all you have to do is meet a few simple requirements each month. In fact, you're probably doing this already with your current checking account:
Use your debit card 12 times.  Debit cards make checking out fast and easy. There's no need to worry about having enough cash in your pocket or holding up the checkout line to write a check.
Set up at least one direct deposit or auto-pay. Who needs the hassle of having to run to the bank and cash every paycheck? Or remembering to pay bills every month? Automated Clearing House (ACH) is a national electronic network that makes financial transactions effortless. Most of us use it when we set up direct deposit at work or have mortgage, car, or insurance payments deducted directly from our checking accounts. To set up an ACH transaction, you'll need to provide your checking account number (NOT your debit card number — that's a different type of transaction) and your bank routing number. You can find both of these on MyOCCU Online & Mobile or at the bottom of your checks.
Go paperless. Paper account statements are just one more sensitive document you need to dispose of safely. Going paperless means less shredding for you and less strain on the environment. All you need to do is sign up for our free eStatements once, and you'll never have to think about it again.
What happens if I don't?
Not sure you can meet all those requirements every month? No problem — there's always next month. In the meantime, you'll still earn .05% APY on your account balance. Plus, you get to reap all the benefits of a free checking account, including:
No monthly service fee.

No minimum balance.

Free online and mobile banking.

Mobile deposit options.

Free debit card.

Free eStatements.

Free bill pay.
How do I make the switch?
One of the biggest reasons people settle for a mediocre checking account is they don't want the hassle of switching. But what if we made the process totally seamless? Because we have. Switching to Remarkable Checking is remarkably easy, whether you:
Use a different bank. Already have a checking account with another financial institution? We've put together a handy switch kit to help you make a smooth and painless transition.
Already have an OCCU checking account. It literally takes less than five minutes. When you upgrade your OCCU checking account, you get to keep your same debit card and account number. Nothing has to change — except the perks you'll start earning! 
When it comes to your money, why should you settle for anything less than remarkable? Imagine the possibilities that could open up when you start earning more from your checking. Learn more about how you could benefit from opening a Remarkable Checking account today.
*Foreign ATM fees charged by non-OCCU and non-CO-OP financial institutions for the use of their ATMs will be automatically credited back to your account by OCCU at the end of the statement cycle. This credit is subject to meeting the qualifying factors. Statement cycle = first day of the calendar month to the last day of the calendar month. Example: May 1 – May 31.
**4.00% annual percentage yield (APY) intro rate effective for the first month of new account opening and 6 statement cycles ("cycle") after for balances of $20,000 or below. Remaining balances greater than $20,000, will receive a rate of .20% APY. After the intro period, a 2.00% APY is applied to the first $20,000. Remaining balances greater than $20,000, will receive a rate of .20% APY. All rates subject to the following qualifying factors required per cycle: 1) 12 settled debit card transactions; 2) 1 direct deposit or ACH debit or credit transaction (excluding OCCU's Bill Pay service); and 3) active enrollment in eStatements. If one or more of the qualifying factors are not met, account will receive a default rate of .05% APY for that cycle. Statement cycle = first day of the month to the last day of the month (ex. May 1 – May 31). APYs effective as of 2/9/2023 and subject to change. Introductory offer may end at any time, contact OCCU for details. Fees could reduce earnings.