Home safe home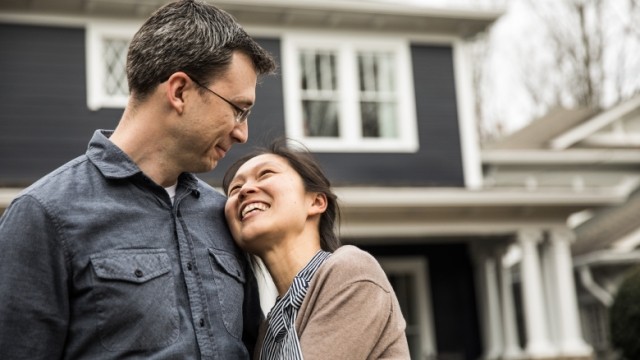 OCCU

-

08.23.2023
Your home is a refuge. And as your safe place, it's hard to imagine harm coming to anyone you welcome in. But unfortunately, accidents do happen sometimes. Your daughter's friend falls out of your treehouse. Your neighbor's dog bites your husband while he's trimming the bushes. You wash her hands in the sink upstairs and leave it running… and then leave the house… for three hours. You come home and find your kitchen ceiling leaking water from the upstairs bathroom.
It happens.
Thankfully, a solid homeowners insurance policy will cover much of the damage done. Without it, you may be dealing with more than just damage to your home, an injury or an unpleasant conversation with your neighbor. You may be out a significant amount of money to cover someone else's medical bills, replace stolen items or repair a damaged home.
Homeowners insurance isn't a once-and-done deal. You should update your home policy every five years or when there's been a significant change such as a remodel or addition that affects the value of your home. Look at your current policy, and then shop around. The Insurance Services team at OCCU can help you do just that.
Premiums and policies change from year to year, so don't bank on the quotes you received five years ago. You should determine if your current policy limits are sufficient for the current value of your home and lifestyle and learn what coverage you're getting for your premium. Our partnerships with reputable carriers in the region mean you can compare prices as you find the coverage you need.
When reviewing your policy, consider these common reasons people have to file a claim with their homeowners insurance policy.
Fido can get a little too feisty sometimes. Known as a man's best friend, many people love their dogs as much as children and would not like to think their sweet pup would ever hurt anyone. In fact, most dog owners who are being sued for an attack say their dog had never bitten anyone before. Even if that little kid had no business taking Fido's favorite toy from him, if he bites, no matter the circumstances, the victim could sue you.
To protect yourself, you'll want to make sure your insurance covers your particular breed of dog. If you keep your dog in the yard, your insurance may suggest you keep the dog fenced and post warning signs.
Oops, watch your step. As a homeowner, it's your responsibility to keep your home reasonably safe for anyone who is on your property, even if they're there without your specific invitation. Make sure your policy has property liability coverage. That way, if your daughter's friend breaks her arm falling out of your treehouse, you can apologize profusely and humbly hand over your insurance information to the E.R. Having property liability coverage ensures that your insurance will cover any medical expenses.
Showers and shakes. We get a lot of rain in the Pacific Northwest. This can lead to flooding. Damage that results from flooding or other natural disasters is often covered by insurance, but it can pay to make sure you understand exactly what is covered.
Only 20 percent of Oregonians have earthquake coverage, and even fewer Washingtonians do — around 11 percent. Homeowner policies do not automatically cover earthquake damage so that coverage has to be purchased separately. If your current insurance provider does not provide that option, there are specialty companies that do.
Unless your mortgage lender requires this coverage (if you live in a flood zone, for example), it's up to you to determine whether the risk of such disasters warrants the cost of the coverage.
Stop, thief! If someone breaks into your house and steals your flat screen TV, you expect insurance to compensate you. Did you know that your home insurance can potentially cover certain items whether they're inside your home or not? Through scheduling endorsements, also called riders, for valuable items you own such as jewelry or artwork, your insurance will cover these items regardless of if they are stolen from your home or your hotel room.  
Ready to make a change? When reevaluating your policy, also take into account whether you enjoy working with your current agent. Did they respond well to any claims you filed in the past? Before changing policies, make sure you check on any cancellation fees for your current policy and confirm that your new coverage is in place before switching.
As with auto policies, insurance is a careful balance of weighing when it makes sense to make a claim and when you're better off just covering something out of pocket. Still, if any of these unfortunate things happen to you or your guests, it can give you peace of mind to know your homeowners insurance has you covered.
When you're ready to revisit your policies, let our team help you navigate your options so you can make the best choice for you.