Low-cost summer activities with high entertainment value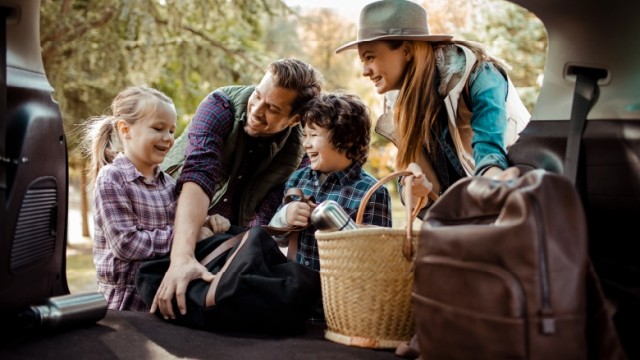 OCCU

-

06.22.2020
It's been a long spring, and you're ready to get out and have some fun. With social distancing still in effect and budgets looking different, that might take a little extra creativity. If you're sticking close to home and planning for future activities, an Ignite Savings® account is a great way to build funds.
What are you planning to do this summer? Here are some affordable activities you can enjoy without breaking the six-foot rule:
Take a scenic car tour
Now is the perfect time to check out some of that incredible Oregon scenery you've always meant to explore, all from the safety of your car. From Hells Canyon in Eastern Oregon to the historic Rim Drive at Crater Lake, we've got more scenic byways and tour routes than any other state. Depending on your budget, you can stick close to home for a day trip or find a place to stay overnight while you venture farther afield.
The great thing about these tours is there are often plenty of viewpoints and picnic areas where you can get out, stretch your legs and admire the view. If one is too crowded, you can always try the next one along the route.
Host a backyard movie night
Movie night in the park might be canceled, but that doesn't mean you can't create your own outdoor movie experience. These days, you can get a micro projector for under $50—or make your own smartphone projector out of inexpensive and readily available materials. Create a DIY movie screen using a white shower curtain and a flat surface (such as a fence or garage door). If noise is an issue, have everyone bring their Bluetooth headphones.
Now all you need to do is place your lawn chairs six feet apart, bust out the popcorn and movie-sized candy, and wait for sundown.
Make a mini-golf course
Family fun night isn't the same without a trip to your favorite mini-golf course. But who knows? You might have even more fun building your own course using cardboard, scrap wood or other items from around the house. Start with a scavenger hunt to see what creative materials everyone can come up with and build from there.
No construction skills are required for this project—just an imagination and a little teamwork. Empty food cans or plastic cups can serve as the holes. Oatmeal cartons with the bottoms cut out make great tunnels. Use toys to create obstacles and fun effects. For example, build a ramp leading up to a toy xylophone that will chime as the ball rolls across it. If you want to get more sophisticated, you can even make windmills and other moving obstacles out of cardboard and inexpensive DC motors.
Have an epic picnic
Now that some state forest recreation areas have reopened, it might be time to revisit the old summer classic. A picnic in the woods is a simple and inexpensive way to get out of the house and enjoy some nature.
Since entertainment options are limited this year, why not kick it up a notch and make it an epic picnic no one will forget? Start by choosing a location you've never visited before. Prepare some novelty foods, like ice cream cone fruit cups, mason jar salads or deconstructed pizza skewers. Pack a deck of cards or your favorite board games and plan some fun things to do after you eat. For example, wrap masking tape around each person's wrist, sticky side out, and see who can make the best nature bracelet from items scavenged around the picnic site.
Livestream some entertainment
Even though you can't go to any concerts or festivals this year, you can still enjoy them virtually. Throughout the summer, musicians, dancers and other artists from around the world will host a variety of online performances, festivals, dance parties and other events.
Catch a livestream concert. Stream a Broadway classic. Take a virtual museum tour. It may not be quite the same as a live event, but you can still enjoy a shared cultural experience without the risk.
Recreate safely
Wherever you go and whatever you do this summer, here are a few tips to help you stay safe:
Bring all the food and supplies you'll need with you—including garbage bags to take your trash with you when you leave.
Call ahead or check online to make sure your destination is open.
Always have a backup plan in case your original destination is too crowded.
Wash your hands both before and after visiting a park or hiking trail.
Maintain a six-foot distance from others.
Don't go out if anyone in your household is feeling unwell.
Keep at-home gatherings to a limited number of people.
A big vacation may not be in the cards this year, but with a little effort you can still have a memorable socially distant summer. After all, it's not about where you go—it's about what you do to make it special.