Not enough financial aid? A private student loan can fill the gap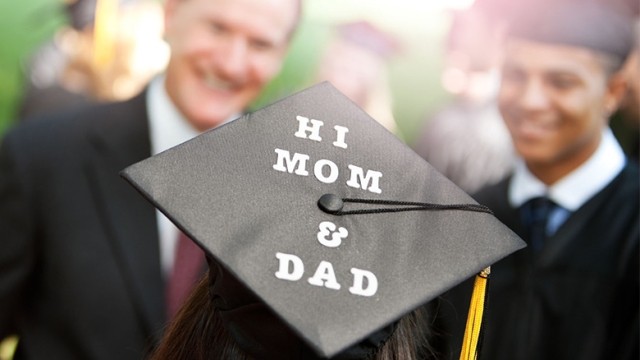 OCCU

-

08.03.2018
Scholarships. Work study. Federal loans. Scrounging under the couch cushions for change.
Paying for college often means scraping together funds from multiple sources. Although 85 percent of undergrads receive financial aid, it only goes so far.
When financial aid isn't quite enough, many people seek private student loans to help cover their college costs. While they don't have as many benefits as federal loans, private student loans can fill in the gap between what you qualify for and what you need. Before you apply for one, however, there are a few things you should know.
1. It's different from a federal student loan
How different? For starters, a private student loan begins accruing interest as soon as you get your first disbursement. That means the longer you're in school, the bigger your student debt will grow. In contrast, a federal direct subsidized loan doesn't charge you interest until after you graduate. The feds offer other benefits, too, like lower interest rates, income-based repayment and forbearance options in case you hit a rough patch. Key takeaway: If you can get a federal student loan, do that first.
| | | |
| --- | --- | --- |
|   | Direct subsidized loan | OCCU student loan |
| No payments as long as you're in school | ✓ | ✓ |
| 6-month grace period after you graduate | ✓ | ✓ |
| No interest while you're a student | ✓ | X |
| Multiple repayment options | ✓ | X |
2. It's a backup — not your first choice
When should you apply for a private student loan? When you've exhausted all other funding options. If you're not sure where to start, use our chart to help you figure out which sources of funding to apply for. In general, you should follow this order:
Fill out the Free Application for Federal Student Aid (FAFSA) to find out which federal grants, loans and work-study programs you qualify for. Direct subsidized loans are best, but you could also get low-interest Perkins loans, Stafford loans and PLUS loans.
If you've got a veteran in the family, look into GI Bill benefits and military tuition assistance. Scholarships and loans are available through ROTC programs, VA Education Benefits, Iraq and Afghanistan Service Grants, additional federal Pell Grant funds, and more.
Apply for grants and scholarships. The Oregon Opportunity Grant is a great place to start, as is the Office of Student Access and Completion. Your college might even offer its own schoolwide or departmental scholarships, so check with its financial aid office.
Ask your parents how much they're able to pitch in. Even if they don't have the money, they can apply for a federal PLUS loan to help you out — or, if they have good credit, they might get a better rate on a credit union private loan.
If you've done all of the above and still don't have enough, it's time to look into a private student loan.
3. It pays to shop around
Private student loans come in all types. Some have deferment options. Some stick you with fees. Some advertise a too-good-to-be-true interest rate that's only available to people with sky-high credit scores. But one thing they all have in common is fine print, so read it and make sure you know exactly what you're getting. Some questions to ask:
Are there loan origination or repayment fees?
What kind of repayment plan is available?
Can you defer your payments if you hit a rough patch?
4. Credit unions have better deals
We' re not just tooting our own horn—other people think so too. According to Money Under 30, many credit unions "offer private student loans with friendlier rates and terms than national banks." Why? We're not-for-profit, which means we give our earnings back to you in the form of lower interest rates and fees. We also have more leeway to help you out when you need it, with benefits like repayment flexibility. At OCCU, we never charge origination or repayment fees for our private student loans. We even offer a 0.25% annual percentage rate (APR) rate reduction with automatic payments.*
5. You might need a co-signer
Still working on building up your credit? No worries. You can ask an adult to vouch for you. A co-signer assumes legal responsibility to repay the loan in case you default. It's a big ask, but some lenders offer a co-signer release that lets you remove them from the loan once you prove you're responsible enough. If you don't have a co-signer, you'll need at least the following:
Five years of credit history (student loans don't count)
660+ credit score
Income of at least $18,000 a year
45 percent or lower debt-to-income ratio
6. Timing is key
How long before you have to pay back your loan? The answer can affect everything from your monthly payment to the type of loan you should get. At OCCU, you can take up to 15 years to pay off your loan, which helps keep your monthly payment down. If you only need a short-term loan — say, for example, you've got just one year of school left — a loan with variable interest can score you a lower rate. If you're going to be there a while, a fixed rate loan protects you against rate hikes.
*If at any time automatic payments are stopped, payment is returned NSF for 2 months in a row, Borrower is past due or the loan is not in repayment status, the rate discount 0.25% will not be applied. OCCU reserves the right to modify or discontinue Borrower Benefits at its discretion and without notice. For more information about student loans, visit our the OCCU Student Loans page.