Time value of money – on the go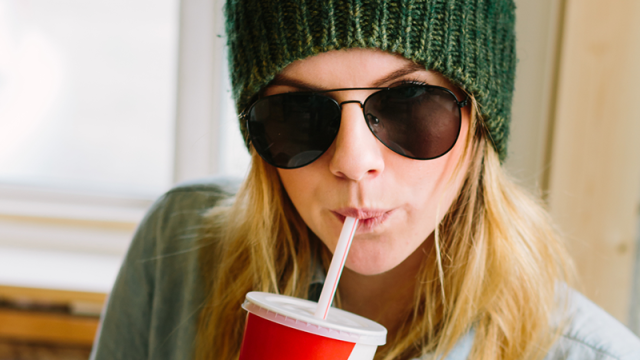 OCCU

-

02.10.2017
You're swamped. Totally cray. Drinking coffee out of a fire hose. Haven't seen daylight (or lunch) in weeks.
Have you noticed how many conversations revolve around how busy we are? We wear our dependence on calendar alerts like a badge of honor. Busy is the new status symbol.
Not to throw shade on the busy parade, but all that frenzy comes with a cost—and not just to our sanity. When we're constantly on the go, with no time for luxuries like eating or sleeping, it affects how we spend our money. We're less likely to plan ahead, buy in bulk or stock up on things. We're more likely to lean on convenience.
Take convenience stores. When you're in a rush, or filling up the gas tank, you can pop in and out in 4 minutes flat. That's a lot less minutes than you'd spend at the grocery. Most of us raid the convenience store when we're traveling to and from work, running errands or out adventuring. What do we buy?
Seventy-two percent choose candy.
Seven in 10 slake their thirst with energy drinks, soda, bottled water, etc.
Six in 10 munch on salty snacks like chips.
Nearly 50 percent get their coffee fix.
Since we usually spend less than $10 per trip, it's easy to overlook the fact that convenience stores charge up to 11 percent more than grocery stores on any given item. But when you're doing it once a week—like two-thirds of us do—the hidden costs rack up.
Want to know the impact of all those convenience purchases you make to fuel your busy lifestyle? Let's take a look at how much you could save by planning ahead.
Single soda vs. 12-pack
You're craving a sugar rush, so you pop into the 7-Eleven and grab a soda out of the cooler. Let's say you pay $1.19 each time. Doesn't seem like much—until you realize you're doing it every day. At that price, your soda habit can set you back more than $300 a year.
But what if you loaded up on 12-packs at the grocery store? Snag them on sale for $2.50, and you're only shelling out $0.41 per two cans. That's an extra $100 a year for you to pocket.
Snack size vs. full size
You're dying for something salty, so you grab a snack-size bag of chips along with your daily soda. Let's say a 3-ounce bag costs you $1.69, which comes to $0.56 per ounce.
But it doesn't take a crystal ball to know a snack attack is nigh—most of us get one at least once a day. So why not buy a family size bag on sale for around $4 and divide it into emergency snack rations? Now you can munch for just $0.30 per ounce, slashing your snack costs nearly in half.
Coffee dispenser vs. home brew
It's the great irony of coffee: you always need it most when you have the least amount of time. So you grab your wake-up juice from a drive-thru or convenience store dispenser. Even if you don't get fancy, you're probably paying almost $2 a pop.
Taking just a few extra minutes to brew your own each day can cut your coffee budget in half. Add in some trendy creamer, and you can still drink home brew for $0.70 or less a cup.
Of the many habits we indulge in every day, it turns out our busyness is one of the most expensive. But then, status symbols always are.