The true cost of owning a boat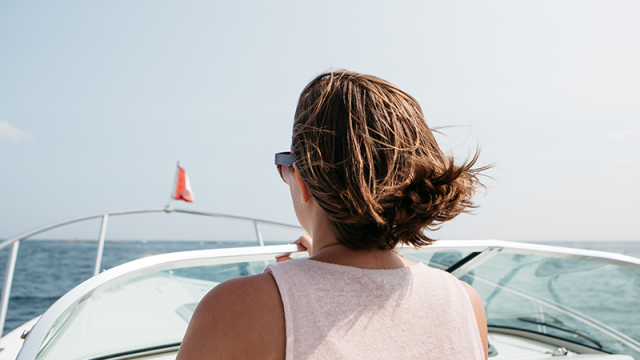 OCCU

-

03.06.2017
What makes water so alluring? Maybe it's the gentle bobbing of the waves, or the rhythmic sound they make against the side of a boat. Maybe it's being surrounded by the most soothing color in nature.
Whatever it is, water triggers "a mildly meditative state characterized by calm, peacefulness, unity, and a sense of general happiness and satisfaction with life in the moment," says marine biologist Wallace J. Nichols. In the summer, just looking at the water can make you feel cooler.
It's why 87 million U.S. adults participate in recreational boating activities and 17 percent of households own a boat. Boating opens up countless recreational opportunities—and with a seaworthy vessel at your disposal, you can hit the water anytime the mood strikes you. The average boat owner spends about 17 days a year on the water, averaging more than four hours per jaunt.
"You can boat on pristine waters and enjoy solitude; you can boat where large numbers of boaters gather to share a more social experience; you can boat on calm waters or in large waves; you can boat on some of the best whitewater in the world; and you can boat where the pure enjoyment of nature and your surroundings will astound you," says Capt. David Rokes of the U.S. Coast Guard.
If you have good credit, applying for a boat loan can put you on the water without breaking your bank account. But there's more to buying a boat than simply paying the sticker price. Boat owners face a lot of miscellaneous up-front costs as well as ongoing expenses you'll need to factor into your budget.
Truck and trailer
How do you plan to haul your boat around? Whatever size boat you choose, make sure you have a vehicle powerful enough to tow it. Most boat buyers also own a truck or SUV.
You'll also need to buy a trailer. Some sources estimate the cost of a lightweight trailer at $700 to $1,100. A basic single-axle trailer can run you from $700 to $3,000. On the more expensive end of the scale, tri-axle trailers range from $5,000 to $7,000.
Safety equipment
Before you take your new boat for its first cruise, you'll need to outfit it with all the required safety gear. On the must-have list:
Life vests. Oregon law requires your boat to carry at least one per person, so make sure you have plenty to go around. Prices can vary from $6 to more than $100 apiece, depending on the size and type of boating you'll be doing. Choose your life vests wisely, since you never know when you and your passengers might need to rely on them.
Life preserver. Boats longer than 16 feet must also carry a Coast Guard-approved throwable flotation device. These can range from $12 to $70.​
Flares. The Coast Guard requires you to carry at least three flares to signal in case you need help. These cost around $20.​
Compressed air horn. Boats smaller than 39 feet must carry a whistle or compressed air horn, which can run you $18.​
Fire extinguisher. Fire is one of the biggest hazards on a boat, so you should always keep a fire extinguisher on board. You can get one for $15.​
Skier down flag. These are necessary for fun activities like water skiing. You can get one for about $5.
Insurance
Accidents happen. In the United States, more than 4,000 recreational boating accidents occur each year, causing nearly $42 million in damage. Boat insurance helps protect you, just in case. Although Oregon law doesn't require it, you'll need it if you plan to finance your purchase with a boat loan.
Boat insurance typically costs between $300 and $500, but in some cases it can exceed $1,000. The rate largely depends on:
What type of boat you have
The length of your boat
How often you plan to use it
Shopping around for the best deal can save you money. Some insurance companies give up to a 15 percent discount to boaters who receive boat safety training, for example.
Registration
Depending on the type of boat you buy, you may need to pay to have it registered. As of 2015, nearly 12 million recreational boating vessels were registered nationwide.
Each state has different requirements. In Oregon, boaters must register all motorboats and sailboats longer than 12 feet. Registration fees are determined by boat length, costing $4.50 per foot. For a 20-foot boat, that comes to $90. You'll also need to pay a $50 title transfer fee. The fees might seem steep—but on the bright side, Oregon doesn't tax boat sales.
Maintenance
The marine environment takes a heavy toll. Your boat must be winterized, cleaned and maintained frequently if you want it to stay seaworthy. Engines can be finicky. Seals can erode and require replacement. Every small feature on a boat is subject to wear and tear.
Don't overlook the possibility of accidents, either. Forgetting to raise the motor while towing your boat up a boat ramp can result in a damaged propeller. Failing to use GPS in shallow waters can harm the hull.
These expenses vary depending on several factors, including the type of boat you have and how you use it. Some sources estimate maintenance costs at $1,800 a year for an 18-foot boat.
While boat owners often grouse about the hefty price tag, you can take heart in the fact that only 18 percent spend more than $5,000 a year on boating-related expenses, while three in 10 spend less than $500. Your mileage may vary.
Ready to hit the water? Apply for an OCCU boat loan online—and happy sailing!