Where action meets passion

As your financial partner, OCCU invests in helping you create a more enriched financial future. We are committed to supporting your financial journey wherever it may take you.
Ron Neumann, President & CEO
In 2022, OCCU focused on being a force for good and we thank our members for counting on us to be a trusted partner in their financial journey.
We strive to find new ways to help our members along their financial journey, no matter where they're starting or where they're headed.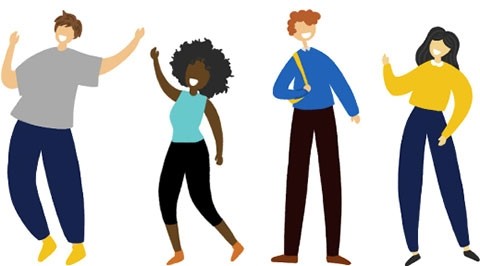 Why we built fee-savings programs and returned more than $1.2 million to members in 2022.

Why we improved our members' credit card experience with tap-to-pay technology and online and mobile banking integration.
Why we paid $13,481,055 in dividends to members in 2022.
Why we shared nearly 50 educational articles, videos and seminars about banking safely and financial empowerment.
Why we offer member impact loans with competitive rates and flexible repayment terms for those facing financial hardships. 
Why we introduced video tellers at all ATMs.
Why we built a new career-path support program and enhanced our internal training for our team members.
 
895
member impact loans, totaling $4.1 million. When a member is facing a financial hardship, a small loan with a fair rate can make a big difference.
$1.2 million
in fee savings returned to our members.
2,406
members and clients supported by our investment services team.
62,313
auto, motorcycle, RV and boat loans.

Expanding and improving for you
We're always searching for new ways to reach our members and bring more of the Pacific Northwest into the OCCU community. That's why we now offer mortgage loans in the state of Washington! 
In Oregon, we opened a new branch in Junction City in 2022, with a Redmond branch following close behind in early 2023. Looking ahead, we have plans for new branches to serve our members in Roseburg, Cottage Grove and Corvallis.
Our digital presence continues to grow as well. Our new video tellers combine the personalized service of a branch visit with the convenience of an ATM. And we've enhanced our online and mobile banking platform so you can manage your money and bring us with you wherever you go.
 
We've expanded our reach to our members, adding more branch locations as well as improved online and mobile banking services. This has allowed us to meet our members wherever they are, so they can access their accounts and manage their money at home or on the go.
254,000
phone interactions with our member contact center team.
23 million
debit and credit card transactions.
5 million
MyOCCU Online & Mobile transfers.
7.5 million
page views on MyOCCU.org.
OCCU was the only local financial institution consistently in the top ten mortgage companies by volume and dollar value in Lane County, OR.
672
mortgage loans in Oregon and Washington.
We're here for you with products and services to sustain and uplift you during good times and more difficult times.
Ron Neumann, President & CEO
In the community
We volunteered our time, skills and resources to help our communities thrive.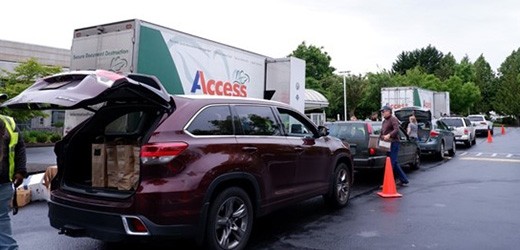 One of our biggest events was Shred Fest 2022, which gave people an opportunity to safely destroy their sensitive documents and donate food to help their neighbors in need. 
45+ employee volunteers. 
9,000 pounds of paper shredded.
600 households served through our drive-up location.
1,600 pounds of food donated to St. Vincent de Paul food pantries.
945
employee volunteer hours at non-profits and schools.
$185,064
in donations, community support and sponsorships.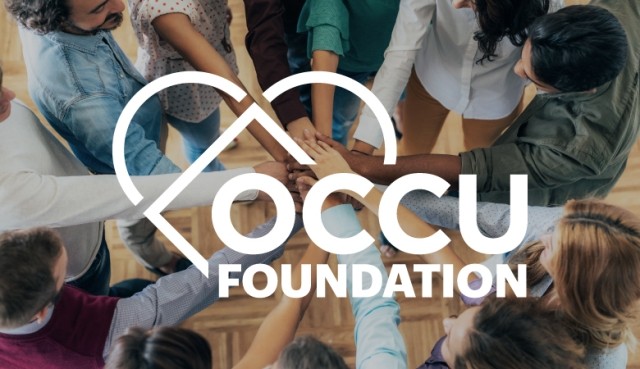 OCCU Foundation partnered with 45 organizations, giving $919,497 to build happier and healthier communities.    
$225,750 scholarships funded.
$216,250 grants to support community building programs.
$454,497 to support health initiatives.
Inaugural OCCU Foundation Golf Classic raised more than $190,000 to support programs working to alleviate childhood hunger.
Some of the OCCU Foundation's top funded partners in 2022 include:
American Cancer Society

Bethel Education Foundation

Blessings in a Backpack

Boys and Girls Club of Emerald Valley

Bushnell University

DevNW

Education Together Foundation

Eugene Family YMCA

Food for Lane County

Marion Polk Food Share

McKenzie Fire and Rescue

PeaceHealth Sacred Heart Medical Center Foundation

Ronald McDonald House Charities

University of Oregon Foundation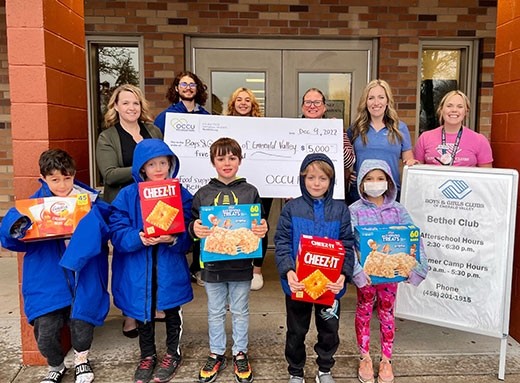 OCCU and OCCU Foundation's commitment to supporting youth in our community goes above and beyond raising funds. Their generosity supports programs like our Summer Food Program, which provides free lunches to children in our community who primarily rely on school lunch for their main meal of the day. OCCU and OCCU Foundation made it possible for families and children to breathe a little easier and enjoy summer to the fullest!
FOOD for Lane County
OCCU was honored to be recognized by its members, community, team members and peers in 2022.
2022 Register-Guard's Readers' Choice Finalist in the Credit Union category as voted on by readers.
Portland Business Journal 100 Best Companies to Work for 2022 (as voted on by team members), Corporate Philanthropy and Most Admired Company lists.
2022 Bold Steps award finalist, recognizing businesses that are leaders in sustainability.
2022 Prominent Partner award from Ronald McDonald House Charities of Oregon and Southwest Washington.
2022 Springfield Chamber of Commerce Employer of the Year.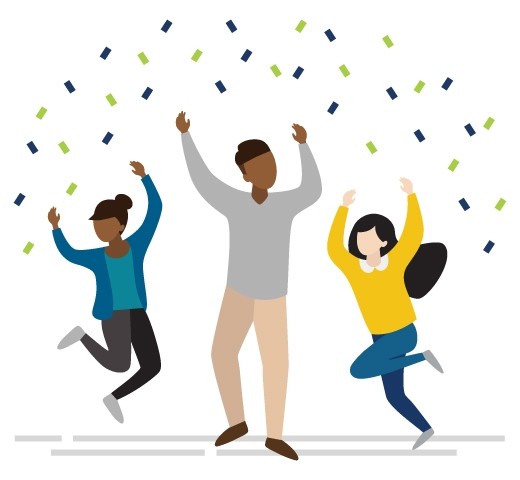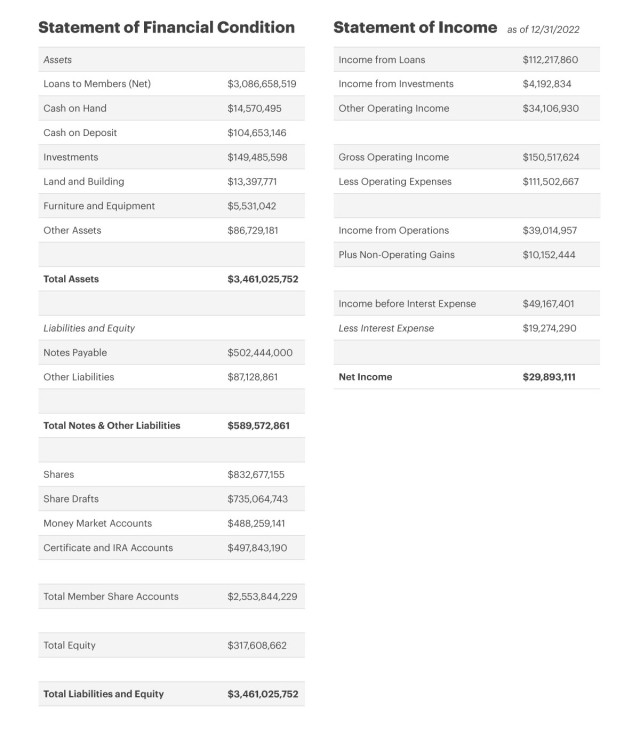 Chair and CEO report
JEANINE JENSEN, Board Chair and RON NEUMANN, President & CEO
Read OCCU's Chair & CEO Report
We are happy to report that OCCU is a healthy and growing financial institution. Through the unprecedented changes in the market and the continuously rising interest rate environment, we have continued to thrive.
In 2022 we welcomed more than 57,000 new members and our assets grew to $3.46 billion. This growth has allowed us to continue our investments in the membership by adding branch locations and interactive video teller machines, enhancing our digital channels and introducing new products and services to meet your evolving needs.
The entire OCCU team holds strong to our vision to enrich lives and works diligently to ensure that we exceed your expectations as a financial partner. This includes paying top of market rates on deposit accounts such as Remarkable Checking and Ignite Savings and offering competitive rates on loans, all with lower and fewer fees than other financial institutions.
As we look ahead to 2023 and beyond, we are excited about the opportunity to improve your experience, bring you additional ways to interact with OCCU and provide other service enhancements.
We are expanding our physical presence with new branch locations. In the first quarter of this year, we opened a full-service location in Redmond, OR and we will join the Roseburg, OR community this summer. We are hopeful that two additional locations in the Willamette Valley will be added by early 2024.

We will continue to enhance our digital, phone and self-serve channels to allow you to do business with us when it is convenient for you.

Mid-year, we will convert our debit card platform to a new processor. This change will allow us to improve and optimize your experience and bring contactless,

tap-to-pay

functionality and advanced fraud detection and prevention capabilities to your debit card.

We are offering our new home and auto insurance products to provide you affordable alternatives to bring you peace of mind.

Through the OCCU Foundation, we will expand our support and investment in the work of nonprofit organizations throughout our communities.
These are just a few of the exciting things we are working on in the year ahead. We remain committed to enhancing your OCCU experience and delivering exceptional service as we look for additional ways to enrich the lives of those around us and add even more value to your membership.
We are humbled that you have selected us as your financial partner. On behalf of the Board of Directors and our more than 600 employees, we would like to say thank you for your membership and engagement in our cooperative. It is our sincere hope that we have enriched your life in a meaningful way.
In gratitude,


Jeanine Jensen
Board Chair


Ron Neumann
President &CEO
A commitment to safety and soundness
JACKIE RICE, Supervisory Committee Chair
Read OCCU's Supervisory Committee Report >>

OCCU's Supervisory Committee is appointed by the OCCU Board of Directors from among the members of OCCU. The Committee acts as our members' representative in ensuring that an annual overall financial audit and verification of members' accounts is performed and that the credit union has adequate internal controls to provide for the safety of member assets. The Committee reviews all audits and reports any significant findings to the Board of Directors.
 
The annual financial audit and verification of members' accounts for 2022 were completed by professional services firm Moss Adams with an effective date of June 30, 2022. Their formal opinion letter confirmed that the financial statements fairly represent the credit union's financial position.
 
In addition to the verification of members' accounts and annual financial audit, the Committee also reviews all internal audits. In 2022, these audits were performed by the firm FORVIS. The Committee is appreciative that OCCU management continues to respond promptly to mitigate any operational issues as they arise.
 
On behalf of the Supervisory Committee, I would like to thank the Board of Directors, management and staff for their work. Their efforts are greatly appreciated.

Jackie Rice
Chair
Jeanine Jensen
Chair
Bill Inge
Vice Chair
Beverly Anderson
Director
Tom Larson
Director
Genevieve Parker
Director
Jacob Siegel
Director
Ron Neumann
Treasurer, OCCU President & CEO
ASSOCIATE BOARD MEMBERS
Brandon Rogers
Scott Smith
SUPERVISORY COMMITTEE
Jackie Rice
Chair
Justin Freeman
Vice Chair
Ellen Manzer
Jered Souder
Ron Neumann
President & CEO
Greg Schumacher
Executive Vice President
Brian Alfano
Chief Digital Officer
Russ Bernardo
Chief Lending Officer
Heather Billings
Chief Marketing Officer
Tracey Keffer
Chief Operating Officer
Terri Baker
VP of Member Support
Rich Black
VP of Indirect Lending
Dan English
Director of Technology Services
Steven Epling
Director of Credit Services
Casey Foltz
Senior VP of Analytics & Profitability
Lacey Green
Director of Executive Services
Aris Jerahian
VP of Digital & Payment Services
Brian Killingsworth
VP of Technology Services
Cherie Kistner
Director of Corporate Communications
Chelsy McNeil
Director of Digital Experience
Angelica Murillo
VP of Regulatory Compliance
Ethan Nelson
VP of Credit Administration
Lindsey Roberts
VP of Mortgage Lending
Brandy Rodtsbrooks
Director of Marketing
Dave Schiffer
Senior VP of Finance & Credit
Kirsten Simmons
Senior VP of People Experience
Cheleana Stafflund
Director of Retail Operations
Genevieve Sumnall
VP of Business Services
Chris Whittaker
Senior VP of Indirect Lending
Matthew Wilson
VP of Risk & Administration
Greg Young
VP of Insurance Services