5 home improvements you can make on a budget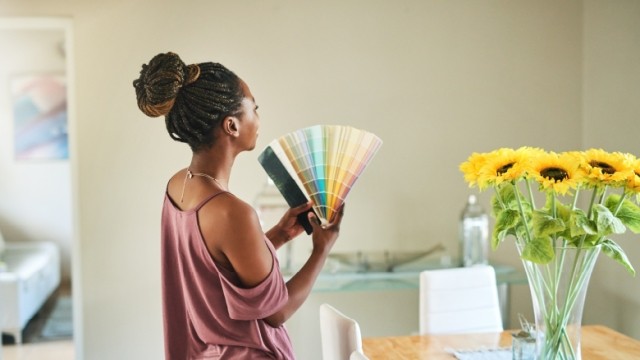 OCCU

-

06.22.2020
The more you stay home, the more important it is to create an environment that nurtures you. Even small changes can make a big difference in how you feel about your living space.
Since social distancing is still keeping many of us at home, it's worth it to invest a little money into a few updates. Fortunately, you don't have to spend a lot to give your home a makeover. There are plenty of low-cost, high-impact projects that can make your time at home more pleasant without breaking your budget.
If you've got a some extra money in your savings account, a home improvement project can enhance your enjoyment of your home while also adding to its sales appeal—and if you need some help saving up for the next item on your home improvement wish list, our Ignite Savings® account can give your savings a boost.
Here are five projects you can do this summer to help you fall in love with your home again:
1. Try out a new hue
Painting is by far the easiest way to make a big splash without spending a lot of money. Whether you tackle the whole house, a single wall, the front door, or the kitchen or bathroom cabinets, a change in color can take a room from shabby to elegant in a single day. Cover outdated oak cabinets with an espresso finish or create an accent wall for dramatic flair. You'll be amazed at the result.
2. Add a backsplash
If your kitchen feels a bit lackluster, consider adding a DIY backsplash for a touch of style. You don't need special skills or expensive materials to do it; you can use peel-and-stick tiles, stick-on vinyl or even flooring materials to create an artistic backsplash that takes your kitchen to the next level. Creative homeowners have even made them out of bottle caps, wine corks and broken CDs.
3. Swap out an old light fixture
Tired of looking at the same old dusty ceiling lights? Consider a unique chandelier or pendant light to energize the room and make a statement. Whether you opt for an industrial, rustic or timeless style, a new light fixture can add a touch of sophistication to your home.
4. Install kitchen rollouts
Maximize storage space in your kitchen by outfitting your cabinets with rollouts. They screw right into the existing shelves and take only minutes to install, transforming the wasted areas in the back of your cabinets into accessible storage space. Just make sure you measure carefully before you buy.
5. Organize your closet
You can close the door on a messy closet, but the chaos will still be waiting for you the next time you open it. If Marie Kondo has taught us anything, it's that even the unseen parts of your home can have an impact on your psyche. Investing in an organizational system helps you leverage all available storage space while keeping everything neat and easily accessible.
Even if you don't have a lot of money to spend on home improvement, there are plenty of simple DIY projects that can make a big difference in how you feel about your home. Have future home improvement projects on your mind? Consider an Ignite Savings account to help build your savings for renovating your home.