Beating the clock: a timeline of the mortgage process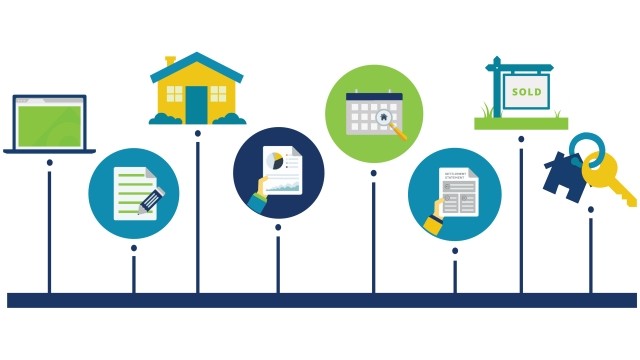 OCCU

-

09.08.2016
Buying a home can feel like a roller coaster ride. Long periods of waiting are punctuated by flurries of progress. Then, suddenly, you're careening toward home ownership.
While you can't rush the process, time does matter. It's a seller's market in many Northwest cities, including Eugene and Portland, so you'll be facing fierce competition from other buyers. When you do find the right home, you'll need to be able to move quickly.
Time also means money. Once you lock in an interest rate, you'll need to close on your home before the deadline expires. If closing is delayed, you can apply for an extension on your mortgage rate lock, but you may end up paying a higher interest rate based on how long you need to extend. The quicker you close, the more money you'll save over the life of your loan.
Each mortgage unfolds on its own timetable. It takes an average of 50 days to close on a home loan; that's 10 days longer than last year, which means mortgage approvals are taking longer and facing more delays. Many different factors can affect the length of the process, including:
Market conditions, which determine how busy lenders, home inspectors, appraisers and other service providers are
Extra time needed to address any contingencies in your purchase offer, such as potential repairs
Your lender's underwriting process, which may include follow-up requests
The amount of time it takes to complete a home appraisal
Some of these issues lie outside your control. But there's still a lot you can do at the beginning of your home buying journey, when time is less critical, to pave the way for a faster closing. Below is a timeline of the mortgage process, with tips to keep you on track and help you avoid unnecessary delays.
STEP 1: Pre-Approval—1 Week
Getting pre-approved for a home loan can shave precious days off your mortgage timeline. Think of it as a fast pass to buying a home; it puts you ahead of buyers who don't have it. Fewer than 10 percent of homebuyers seek pre-approval before they start shopping.

A pre-approval letter is usually required to make an offer on a property. Sellers often won't consider an offer without it, and many realtors will show homes only to buyers who are pre-approved. When you do find the home of your dreams, pre-approval will allow you to leap on it. Otherwise, you'll run the risk of losing it to another buyer while you wait for lender approval.

Simply start the process to get an OCCU mortgage pre-approval. You'll need:
Employment and address information for the past two years
Current employer and landlord contact info
Bank, retirement and investment account statements
Proof of income (such as pay stubs or tax returns)
If you have all your documents collected, a getting a pre-approval should only take a day or two. However, getting pre-approved can take up to a week. You'll receive a letter stating how much you qualify for in terms of loan amount, home purchase price and interest rate. Because mortgage rates change daily, your pre-approval letter is valid only for a limited time (usually 45 to 60 days). If your house hunting takes longer, simply request a new pre-approval from our mortgage team.

STEP 2: Finding a Home—No Timeline
With your pre-approval letter in hand, you can start looking at homes. Since you're not yet racing the mortgage clock, you can afford to coast a bit while you see what's out there. When you do find a home you like, you'll be ready to move quickly and beat out the competition.
Making an offer on a home can be a nail-biting process. It typically takes about a week to negotiate a deal both parties can agree on. Consider carefully how much you want to offer, keeping in mind that aiming too low could cost you the property in a competitive market, says real estate author Brendon DeSimone. Base your offer on the home's actual value—gleaned from recent sales in the neighborhood—rather than the list price.
After your offer is accepted, the sale goes into escrow and the clock starts ticking on your mortgage. The faster you can complete the next steps, the better your chances of getting a lower interest rate.
STEP 3: Home Inspection—1 Week
The home inspection serves as your safety net. It's an opportunity to protect your investment by finding out everything you can about the home you're about to buy. Although the law doesn't require one, it's a smart step for any homebuyer.
A home inspector performs a visual examination of the home to evaluate any defects in the property that could affect its safety, livability or resale value. If significant problems are brought to light, the inspection report can serve as a tool for negotiating repairs with the seller. It can also alert you to issues you may decide you can't live with.
The faster you can get the inspection done, the better. Your real estate contract will include a deadline that all inspections must be complete by. Since it can take time to vet potential inspectors and set up an appointment, it's best to have someone lined up before you make an offer on a house.
STEP 4: Appraisal and Title Search—1 Month
You've looked through the inspection report and decided to move forward. As soon as you give your go-ahead on the property, your lender will schedule an appraisal to make sure the sale price is aligned with the values of similar homes. An independent, licensed appraiser will estimate the home's value based on comparable properties.
It can take up to a week to get an appraiser to look at the property, maybe more if the market is hot where homes are selling quickly, and another week to finish the process. Next, a title company will research the home's legal history to make sure there are no claims, liens, pending legal actions or other encumbrances on the property. Altogether, it takes about a month for your lender to make sure these important bases are covered.
STEP 5: Scheduling Closing Day—1 Week
Once the appraisal and title search are done, you're on the last leg of the ride. Your closing date will be scheduled for the following week.
While there's no specific financial advantage to closing on a certain day of the week or month, some days are more popular than others. A quarter of all home sale closings occur on the same 25 days, which comprise mostly Fridays and end-of-month business days.
STEP 6: Closing Disclosure Review—3 Days
Before you sign on your new home, you'll have a final chance to review the terms of your mortgage and an itemized list of your closing costs. Your closing disclosures will arrive three days before closing.
Take time to look the closing disclosures over carefully. This document determines who is responsible for which costs, so you'll want to ensure each item on the list has been assigned to the correct party.
A Closing Disclosure is usually a five-page document containing:
Your basic mortgage information
Transaction summary for the sale
Settlement charges, including total fees paid to the real estate broker, mortgage lender and escrow reserves
Final loan terms, including your initial interest rate and monthly payment
Your lender will have previously provided you with a loan estimate of your closing costs. Compare this with the final costs outlined in the closing disclosures, and ask about any major differences between them.
STEP 7: Closing—1 Day
It's finally time to sign that mountain of paperwork and take possession of your new home. The process can take a while, so it's not something you want to try and squeeze into your lunch break. Instead, plan on taking the day, or a half-day, off.  Be sure to bring a valid ID.
This is also when you'll need to pay your closing costs, so come prepared with any required payments in hand. In order to process payments quickly and get you into your home, payments should be certified funds, such as a cashier's check or wiring the funds directly to escrow a few days prior to closing.  Personal checks are generally not allowed.
You're almost there!
STEP 8: Getting Your Keys—2 Days
The papers are signed and your moving boxes are waiting. You should receive your keys within a few business days. If in doubt, ask your Realtor as it is in your original contract. Now that you've made it through the mortgage process, you can relax and settle into your home—on your own timeline.
Equal housing lender. NMLS ID 403502. All loans on approved credit.