How credit unions are good for your business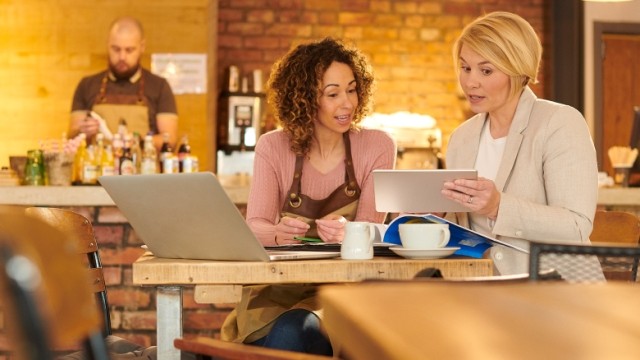 OCCU

-

12.21.2021
If you look at the most successful small businesses, they tend to have one thing in common: strong community ties. Showing a passionate commitment to your community builds trust with your customers, inspires brand loyalty and gives you a network of people to lean on when times are tough.
Forming partnerships within your community creates strength, just as individual threads become stronger when they're woven together to make a rope. When members of a community work together for everyone's benefit, they create strong local economies in which everybody can thrive.
Everyone you do business with is a potential partner in this effort — including your financial institution — and the more like-minded organizations you gather around you, the greater your potential impact. By partnering with a credit union like OCCU, you're not just getting a one-stop shop for all your financial needs. You're also getting an unwavering ally working side by side with you and your business to build resilient communities.
If growth and longevity is your goal, we know one thing for sure: Credit unions are good for your business. Here's why:
Business is all about relationships
Now more than ever, people crave connection. They want to feel like a part of their community. So many of our relationships have become static and transactional; small businesses have a competitive edge in their ability to provide a more personal experience.
That's what we do at OCCU. Here, business feels personal. You're a member of our community, and we care about your success. We listen to what you need and respond with services to support your organization's growth. Our goal is to provide all the financial tools you need under one convenient roof, including our newly added Commercial Real Estate lending and Small Business Administration lending products.
In short, we value our relationship with you the way you value your relationships with your own customers — and it shows.
Strong local economies help small businesses thrive
Great leaders know that business isn't all about competition. Small businesses depend on each other's success to help create a strong local economy for everyone. By cooperating through partnerships and support networks, we can help keep each other afloat when times are tough.
Since credit unions are nonprofit financial institutions based on this cooperative model of business, we're deeply committed to keeping our local economies strong. Our mission is to enrich lives—not just those of our members, but of everyone around us. We invest heavily in our communities, both through the services we provide and through our charitable arm, the OCCU Foundation.
We're invested in helping you grow
Growing a business is a challenging task, but you don't have to do it alone. Our business checking accounts are designed to adapt as you grow, and we've expanded our array of member business services to meet your needs at every level of your organization's development. Whether you need to expand your fleet, launch a new product line or add another location, our lending products have you covered.
At OCCU, we're not here to profit. We're here to help you profit. Your success is our success, and your growth is our growth.
When it comes to community building, your local credit union can be one a powerful ally. Choosing a credit union as your financial partner could be one of the best business decisions you'll ever make.