How GivingTuesday continues throughout the year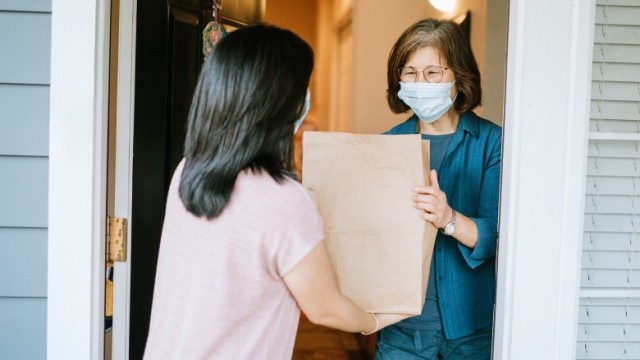 OCCU

-

12.22.2020
Tough times have a way of pulling people together. If you want proof, look at this year's record-breaking GivingTuesday.
In the middle of a pandemic, as communities across the West Coast were recovering from wildfires, Americans gave $2.47 billion to nonprofits on the Tuesday after Thanksgiving. That's a 25 percent increase over last year. What's even more remarkable is that donors had already contributed $503 million earlier this year as part of the #GivingTuesdayNow pandemic relief effort—but it didn't stop them from delivering another outpouring of generosity.
It's heartwarming news, for certain. What really excites us is that it shows Americans are willing to keep giving throughout the year. The pandemic has pulled us together in ways we could never have imagined, and when the need was great, people responded with big hearts — one of our OCCU values!
The need is still great, so let's see how long we can keep this energy going. Will you consider joining us in making GivingTuesday a year-round effort?
Why it should be GivingTuesday all year
Special days like GivingTuesday are great because they get people talking and thinking about giving back. Aside from one-time events, people need help all year, and charitable organizations rely on year-round donations to sustain them.
Monetary needs aside, the real reason to continue giving has nothing to do with dollar amounts. What truly matters is that we keep engaging throughout the year with the causes we care about. It's like any other relationship: the more time and attention we devote to cultivating our collective generosity, the stronger and more resilient our communities will become.
Ways to keep GivingTuesday going
At OCCU, we feel so strongly about generosity that we've woven it into the fabric of our organization. We give back to our communities in all sorts of ways—sometimes individually, sometimes as a team effort and increasingly through our OCCU Foundation. We've also woven it into our member services, making it easier for our members to give regardless of their income level.
Here are five easy ways to turn GivingTuesday into giving all year:
1. Charge a charitable donation
Did you know you can use your OCCU credit card to support your favorite cause? You'll even earn extra rewards points on qualifying donations. Don't worry about making a big contribution; a smaller donation every month is just as valuable.
2. Donate your rewards points
Instead of redeeming your credit card rewards, you can convert them into cash or gift cards and donate them to a charitable organization. It's a great way to give when you don't have a lot of extra funds.
3. Do something small for one person
It's motivating when you can see the impact your generosity has on someone. Nonprofits play an important role in keeping our communities resilient but lending a hand to a neighbor can be just as transformative. Make it a point to include both in your ongoing giving strategy.
4. Set up a recurring donation
Even when you're committed to generosity, it's hard to sustain the same level of energy all year. During the times when your attention flags, you can keep supporting your favorite cause with a steady flow of funds by setting up an automatic monthly donation. All you need to do is choose an organization and look for a donation button on their website or social media profile.
5. Find a matching gift program
Want to double the impact of your donation? Many employers, universities and other organizations will match your charitable gift. The only catch is that you have to ask. Few people do, which means you'll be tapping into an underutilized community resource.
With a little creativity, there are endless ways you can give back to your community year-round. Don't forget, you can encourage others to do it too. Sharing your efforts with your social network will help keep the conversation going and fuel the spirit of generosity we saw on GivingTuesday.
Want to learn more about how we give back? Visit here to find out how we partner with nonprofits and organizations in our community to carry on the credit union movement of people helping people.