More than an OCCU member: Jan Burch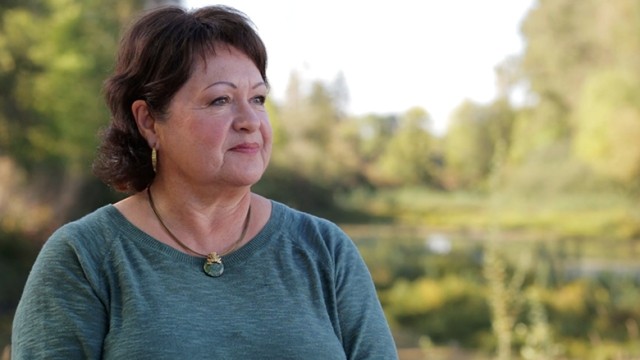 OCCU

-

02.17.2016
"Community is such a part of my soul," Jan Burch, a member of OCCU, tells us on a sunny Eugene afternoon. We know Jan not just by her charismatic visits to our branches and investment seminars, but her passion for community involvement. "It's how I was raised," she explains as she tells us about her parents – workers within the forest industry with immense care for Oregon and Oregonians alike.
"Even though we weren't rich by any means, we were loved and we had enough.  Mom sewed a lot of our clothes.   We always had food on the table, and we felt like we were okay. So we were taught to give back to those who didn't."
Jan loves lending a hand to those in need. At a young age, Jan volunteered with her family at Disabled American Veterans events, handing out bingo prizes to winners and homemade treats made by her mother to each Veteran playing. Giving back stayed with her as she grew in her career, serving as the director of community involvement at a nearby credit union — a job that couldn't have suited her better. When asked about volunteering, Jan recalls supportive nights at Cancer Walks but admits there's no single cause she favors over another. She goes where she sees a need.  "You're never at a loss for finding something to do. There's always some cause out there that needs one more volunteer."
Though for Jan, community involvement isn't just fulfilling a need. It's fun too. Jan raised her family with the same values of community giving as she was raised with. Just as she did with her family, her kids and grandkids join her in getting involved, and view it as an exciting and rewarding way to spend time together.
Raised near Myrtle Point and later moving to Eugene, Jan has spent her entire life in Oregon. In fact, we've had the pleasure of serving Jan for more than 40 years at OCCU. Banking at a credit union was only natural for Jan. Her parents were huge supporters of credit unions because of their ties to community.
"I was taught at a very young age that belonging to a credit union was the right thing to do," Jan tells us. "OCCU was the right credit union for me because of the feeling of safety and caring I get." When faced with recent difficult family issues, she shares that OCCU was able to guide her through the resulting financial questions and concerns so she could focus on the more important thing – her family. 
"I now know as an adult — not just a child being told — I understand and I've seen, and I've experienced the involvement the credit union has with its people – with its members. And that gives you a really good feeling to know that you mean more to your financial institution than just the money you can bring to the door. You matter."
At OCCU, we love the shared connections and values of members like Jan. Hear more from our members and what connects them to OCCU. We are so thankful to have her on our side, and know that we're better because of it.