14 tips for RVing on the cheap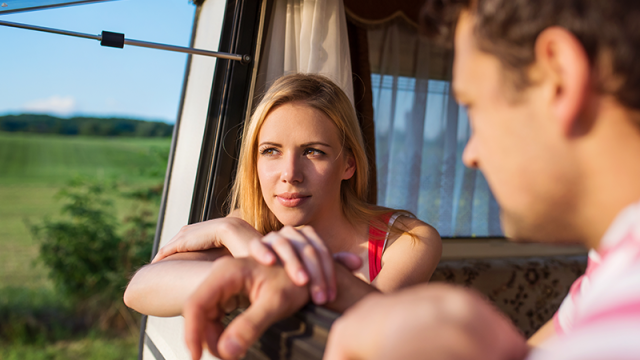 OCCU

-

05.03.2017
Having a home on wheels makes long trips more affordable. You can cook your own meals, follow your own schedule, and sleep in comfort for just a fraction of the cost of a hotel room.
For nearly 9 million U.S. households, recreational vehicles offer excitement, adventure and the freedom of the open road. Four in five RV owners agree it's less expensive than other forms of travel—even with rising gas prices. In fact, an RV can save a family of four up to 62 percent on vacation costs.
It helps to have a few strategies in your pocket for saving money on the road. Whether you're an occasional road-tripper or full-time traveler, these tips from seasoned RVers can help you travel for less.
Pumping your gas budget for extra miles
1. Slow and steady: Sailing down the freeway at 70-plus miles per hour consumes a lot more fuel than sticking to the optimal 55. Use cruise control as much as possible.
2. En route: Investing in a GPS with an RV-specific route planner can help you avoid turnarounds, unnecessary miles and other fuel-guzzling errors.
3. Maintenance matters: Tuning up your rig can boost fuel efficiency by 20 percent. A dirty air filter, for example, can sap up to 7 percent of your gas mileage after just 5,000 miles of use.
4. Gas rewards: Find a credit card or gas card that lets you earn rewards on your fuel purchases. Use an app to find the cheapest gas on your route.
5. Maximizing mileage: Keep an eye on your tire pressure; underinflated tires can waste 1.2 percent more fuel. Cut the engine instead of idling. Regularly declutter your RV to keep weight at a minimum.
Saving on overnight fees
6. Public spaces: State and national parks are less expensive than private RV parks. You can even stay for free in publicly owned BLM areas and national forests that allow dispersed camping.
7. Boondocking: Many stores, such as Wal-Mart and Cabela's, will often let you stay in their parking lot for free. Use an app to find free places to stay along your route—and always ask the store manager if it's OK.
8. Club rates: Consider joining an RV club or camping club or buying a national parks pass to get discount rates at campgrounds across the country.
9. Long-term discounts: The longer you plan to stay at an RV campground, the lower the rate you can get. Save money by paying the weekly or monthly rate instead of renting your space by the night.
Keeping a lid on maintenance costs
10. Proactive care: Stay on top of all monthly and annual maintenance tasks, and address problems immediately to prevent them from getting worse.
11. Maintenance budget: Some RV owners spend $2,000 or more a year on maintenance. Estimate your annual expenses, and factor them into your budget. Set aside an emergency fund to cover unexpected repairs.
12. DIY tune-ups: Learn to perform as much maintenance as possible yourself. YouTube videos, RV forums and manufacturers' websites are great places to find help.
13. Breakdown prevention: Give your RV a once-over before each trip to avoid a costly breakdown. At minimum, check the brakes, tires, rims, suspension, axles and lug nuts.
14. Tire protection: Extend the life of your tires by investing in tire covers for when your RV is parked. Replace tires before they start giving you problems on the road.
The freedom of the open road comes at a price—but it doesn't have to break your budget. For cost-conscious travelers, there are plenty of ways to save money on an RV vacation.