3 tools to make car buying easy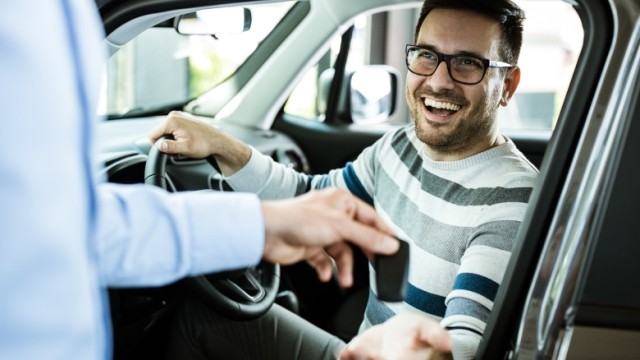 OCCU

-

02.07.2020
A new year opens new horizons. As you travel toward your next big goal in life, have you given much thought to how you'll get there?
According to age-old wisdom, life is about the journey, not the destination—so it's important to enjoy the ride. If you're in the market for some new wheels for the next leg of your journey, we've got the tools to help you make the best possible choice.
The right vehicle will not only get you where you want to go in life, but it can help you savor each moment along the way. The key is to weigh your options carefully and choose a ride that fits your needs and budget without veering from your financial goals. Here are three tools you can use to find the right car for you:
Before you start shopping for the make and model you want, you need to nail down exactly how much you can afford to pay. Once you hit the car lot and start test-driving vehicles, it's easy to get caught up in the excitement and decide based on emotion rather than financial facts. But if you walk into the dealership knowing exactly how much you're willing to spend; you'll be able to negotiate from a much stronger position.
Our auto loan calculator can help you calculate how much you can borrow. Just plug in a monthly payment you're comfortable with, decide how long you plan on taking to pay it off, and find a maximum loan balance that will fit your budget. Or, if you already have your eyes on a set of wheels, you can enter the sticker price to figure out what your monthly payment would be.
Getting pre-approved for an auto loan can help simplify the car buying experience and take a lot of the stress out of shopping for vehicles. If you'd rather wait and take care of financing once you're ready to buy, another option is to work with a dealership that participates in OCCU AutoSMART.
This handy tool can help you find a participating local dealer who offers financing directly through OCCU. You can even shop for new and used cars online. Once you find a vehicle you like, just ask for OCCU to finance your auto loan.
As any car owner knows, a vehicle's true cost of ownership doesn't end with the sticker price. It also includes how much you'll regularly spend to fill up the gas tank. Fuel costs add up over time, especially if you have a long commute, which is why fuel economy is such an important consideration for car buyers.
The great news is you can easily do the research on fuel efficiency yourself. The U.S. Department of Energy offers a tool that lets you compare the fuel economy of different makes and models based on neutral, third-party information. It also includes other tools to help you find the cheapest local gas and calculate how much your new vehicle could save you in fuel costs. It's helpful for the environment and on your wallet.
With these great tools you've got everything you need to make a smart financial decision about your next set of wheels. Ready for new roads ahead? Learn more about our great vehicle rates if you finance with OCCU.