Best home improvement projects for spring—and how to pay for them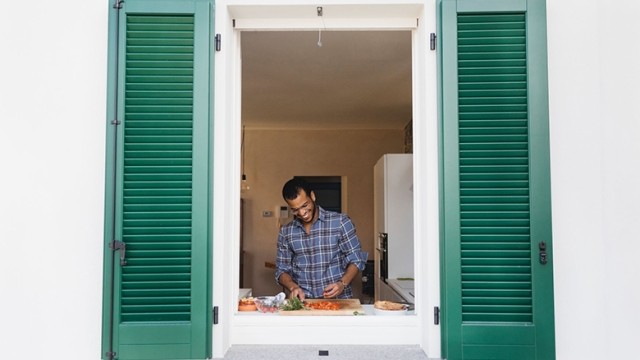 OCCU

-

05.16.2018
After being cooped up indoors all winter, you've probably got a few ideas to spruce up your home.
Now that spring has arrived, it's time to air out those home improvement ideas and start deciding which ones to tackle during the stretch of good weather ahead. That means taking a good, hard look at your budget and prioritizing the projects that will give you the most bang for your buck.
Homeowners typically fund their home improvement projects in one of two ways:
With a tax refund
With a home equity line of credit (HELOC)
This year, Oregonians can expect an average tax refund of $2,895, which can easily cover a variety of small home upgrades. On the other end of the spectrum, 42 percent of homeowners end up tapping into their home equity to finance larger improvements.
About 10 million homeowners are expected to take out HELOCs in the next four years, and many will use them to reinvest in their homes. A HELOC is ideal for ongoing home improvement projects. Since it operates as a revolving line of credit, you can borrow only what you need, pay it back, and then draw more.
HELOC's are for more than massive renovations. You can also use them to finance home improvements in smaller chunks. For example, you can withdraw $1,000, $5,000 or $10,000 of your equity at a time to pay for smaller projects.
However you choose to pay for your home upgrades, make your dollars stretch as far as possible by choosing projects that add value to your home or help you save on monthly utility costs—preferably both. Below are some of the most valuable home improvement projects to tackle this spring.
Projects under $1,000
Upgrade your front door. A new steel front door can add curb appeal, save energy and increase your home's security, all while offering a return of investment potentially as high as 91 percent.
Get a smart thermostat. For less than $500, you can save up to $180 a year in energy costs. Plus, you get a fun new app to play with!
Spruce up the kitchen. Most homeowners recoup more than 81 percent of their kitchen remodel costs in terms of value added to the home. For $1,000, you can update cabinet hardware, add a tile backsplash or replace an appliance with a more energy-efficient model.
Invest in solar-powered outdoor lighting. Save on energy costs with solar-powered exterior lights. Light up your pathway, hang string lights around your patio, and replace your motion-sensor security light with an LED solar version.
Projects under $5,000
Add insulation. Half of U.S. homes are underinsulated. The average insulation job can add up to 116 percent of its cost to the value of your home—plus it can save you $200 a year in heating and cooling costs.
Install a tankless water heater. A new tankless water heater can deliver up to 34 percent more energy efficiency than your home's conventional model, saving the average family $100 or more each year.
Replace the garage door. A new garage door ranks highest on the list of projects that add value to your home, boasting upwards of 98 percent return on investment.
Modernize the bathroom. Aside from the kitchen, your bathroom is the best room to focus on if you want to add value to your home. For less than $5,000, you should be able to install new vinyl flooring while also updating the sink and lighting. Throw in a water-saving toilet and faucet aerator to save on utilities.
Ditch the tub/shower combo. Replace that old tub and shower combo with a modern shower stall or jetted tub, and you can recover up to 80 to 90 percent of its cost in home value.
Bigger projects (more than $5,000) with big ROI
Add a deck. A wood deck expands your outdoor living space and adds curb appeal to your home. You can expect to recoup nearly 90 percent of the cost of a new deck in home equity.
Give the kitchen an upgrade. A minor kitchen remodel involves updating appliances and countertops while giving existing cabinets a facelift. While a full remodel can run you in the neighborhood of $30,000, depending on the materials you choose, it can also add more than 80 percent of its cost to your home's value.
Upgrade the windows. Installing new, energy-efficient windows in place of old drafty windows not only makes your house more livable, it can reduce your energy costs by up to $465 a year if you're replacing single-pane windows.
Replace the roof. A new roof may not be as exciting as a modernized kitchen or master suite, but there's something to be said for not having to worry about leaks for the next 20 years. Since the roof is one of the first things prospective buyers will inspect when considering your home, a replacement will often recover 70 percent or more of its cost.
Update the siding. Siding plays a huge role in the character of your home. Attractive new siding—especially if it's low-maintenance—can add more than 75 percent of its cost to the value of your home.
While cost is a big factor in choosing home improvement projects, don't forget to consider your quality of life—particularly if you plan on staying put for a while. An upgrade with low ROI can still be worthwhile if it makes a noticeable impact on your comfort or enjoyment of your home.
Want to learn more about financing home improvements with a HELOC? Contact OCCU today!