Cozy your nest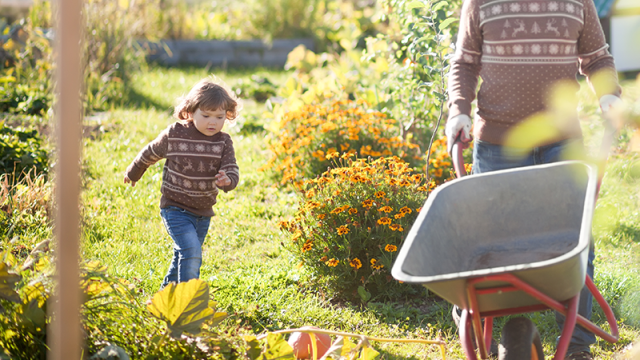 OCCU

-

10.12.2016
Fall ushers in a season of hot cocoa, pumpkins and holidays. It's also the season for nestling up at home to keep warm and dry. To maintain a cozy nest for you and your family, invest the time to winterize your home with these tips.
Start outdoors
Before you start raking up the leaves, give your gutters a good cleaning. You'll be glad you did when the first big rain storm hits, as clogged gutters can cause additional damage to your roofline if blocked with debris. While you're checking your gutters, also clear the dryer vent and make sure the flap closes completely. Doing so can prevent fires caused by lint build up.
To ensure your outdoor furniture and equipment stays in good condition and is ready for use in spring, take the time to put it away properly. Allow lawn furniture to dry completely before stowing it away for the winter. Your grill also needs decent clean up before stowing, including clearing the grates and grease trap and disconnecting the propane tank. Also, put your gardening tools in a suitable place to avoid rust or winter damage. If you have a few extra minutes, sharpen your shovel, spade and pruning shears, and store them in a bucket of sand for the winter. Taking the extra time will ensure your tools stay it quality condition.
Decks and patios need to be cleared to avoid debris damaging or staining your outdoor space. If your deck is no longer repelling water, be sure to add a sealant before the rain sets in.         
When you're done with the last watering of the season, drain and put away your hoses. Purchase a faucet cover do for your outdoor water spigots to prevent frozen pipes. They are usually less than a dollar and can save you hundreds, by avoiding a pipe bursting in the freezing winter temperatures.         
Moving inside
Before turning on your heater or furnace, do a bit of maintenance to keep your air quality safe for your and your family. Change your furnace filters and schedule a service for your heating system. If you have a fireplace, get your chimney cleaned by a chimney sweep and stock up on firewood. If you have ceiling fans, turn them to run clockwise to help circulate warm air.
Check the batteries in your smoke detectors and other alarms in your home. One tip to remember doing these each year, pick a date, such as Daylight Savings Time, to change the batteries every year.           
As the days get shorter and darker, it's a good time to inspect your windows. Removing the screens allows for more natural light, as will a good washing. If your windows are drafty, you should purchase some rubber weather sealing. Cut strips to fit your windows and stick to the frame to prevent drafts. You can also buy weather insulation kits, a plastic shrink film that's applied to the interior of the window frame. Install a window insulation kit following these instructions from Apartment Therapy, but be aware that it might give your windows a cloudy look. And if you're in the market for new window coverings, consider cellular shades, which insulate while still letting in light.           
The winter months can draw unwanted dirt into your home. Make sure you have a mat at every entrance to reduce the muck being tracked in. Since welcome mats and rugs won't keep all the dirt out, set a more frequent vacuuming schedule.             
Last but not least, stock up on supplies you may need if it snows. I don't just mean hot chocolate, although that can't hurt. Add Epsom salt, an ice scraper and a blanket for the car to your shopping list.
Fall is a wonderful time of year. With a little effort winterizing, your home will be ready for fall too.