Credit union mortgages: better than a bank loan for millions of Americans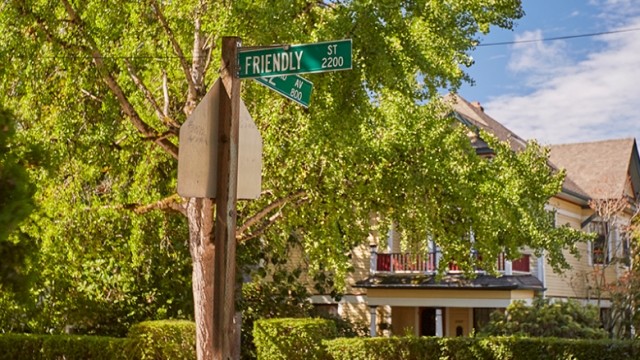 OCCU

-

07.21.2021
Taking on a mortgage is a big deal. Whether you're a first-time homebuyer, trading up, or refinancing your current home, you need a lender you can trust. We're here to give you the confidence you need in any housing market.
Your mortgage loan officer is an important part of your team for your homebuying journey. They're your guide as you navigate the homebuying process, so it's important to know they have your back—especially when it comes to helping you choose the right loan with the lowest rate and fees. Wouldn't you rather partner with someone whose job is to serve you, not the financial institution they work for?
A growing number of Americans agree, which is why more people are choosing to finance their homes through credit unions instead of banks. Credit unions added more than 20 million members over the past five years, while credit union mortgage originations grew more than 71% in 2020.
Financing a home through a credit union isn't just about getting the lowest possible interest rate—although the national average rate for credit unions beats out banks on almost every type of mortgage and home equity loan. Credit unions offer all sorts of other advantages that can help you thrive in your next home.

Why credit union mortgages are better
At OCCU, our members come to us expecting better service, lower interest rates, and low or no fees. Over the life of a mortgage loan, all those things can add up to big savings for you. So how are we able to offer these perks?
It all comes down to the core credit union difference: We're owned and governed by our members (you). Not only do you get to vote on the officers and directors who establish our policies, but since we don't have to worry about generating profit for investors, we're able to pass our profits back to you as savings on your mortgage and other financial services.
Our members-first thinking is what makes the credit union homebuying experience dramatically different than getting a traditional bank mortgage loan. Unlike a bank, which is primarily interested in growing profits for shareholders, your credit union genuinely wants you to succeed with your mortgage. You're not just a customer to us. We're your financial partner on the path to homeownership, and your success is a direct reflection of how well we're serving you.
When you apply for a home loan with OCCU, we will:
Help you select the right mortgage option. Are you a first-time homebuyer or looking to refinance? Is a fixed-rate or adjustable-rate mortgage best for you? Do you qualify for Federal Housing Administration (FHA), U.S. Department of Agriculture or veteran's loan? Whatever your needs are, our mortgage loan officers will work closely with you to find the right home loan with the most competitive rates and low- or no-closing-cost options.
Guide you through the homebuying process. We want you to be as informed as possible when making decisions about your mortgage. Use our mortgage calculator to compare long-term costs and calculate monthly payments. Visit our Home Buying 101 guide to learn about the homebuying process, track your progress and get all your financial ducks in a row. When you're ready, start the prequalification process and connect with an OCCU mortgage expert to get all your questions answered.
Take your unique circumstances into account. Because credit unions have more flexibility than banks, we're able to offer more options to serve members who are first-time homebuyers or don't have traditional credit profiles. Not only can we work with you to help you build the credit you need, but we can often consider special circumstances that may have affected our members' credit scores in the past. That can be a real advantage for homebuyers who have the means to buy a home but don't have the credit history to get a traditional bank loan.
Credit union mortgages are increasingly popular because not-for-profit credit unions can offer advantages that for-profit banks simply can't match. Too long, didn't read? Here's a simple comparison chart showing the differences between a credit union mortgage and a bank loan.
| Feature | Banks | Credit Unions |
| --- | --- | --- |
| Structure | For-profit | Not-for-profit |
| Accountability | Shareholders | Members |
| Mission | Generate renevue for investors. | Serve members with affordable financial services. |
| Mortgage rates and fees | Typically higher. | Typically lower. |
| Customer services | Less focus on personal interactions. | Strong emphasis on personal engagement |
| Flexibility | More rigid in following traditional credit rules. | More flexibility to accommodate first-time buyers and members without traditional credit profiles. |
Choosing a credit union for your mortgage
Once you're sold on the credit union difference, joining one is easier than you might think.
There are more than 5,000 credit unions in the United States, and each has its own membership criteria. Your eligibility may depend on where you live or work, who your employer is, what industry you work in, or where you went to college. However, most credit unions have significantly expanded their membership criteria over the past several years, making it easier to qualify.
To join OCCU, all you need to do is live or work in one of the 67 Oregon and Washington counties we serve. It takes less than five minutes to sign up online and become an OCCU member. Before you make any decisions, here's a checklist of things to look for when choosing a credit union for your mortgage:
Federally insured: The National Credit Union Administration (NCUA) provides the same protections that the Federal Deposit Insurance Corporation (FDIC) provides for banks: insurance coverage on deposits up to $250,000.
Lowest rates and fees: Look for the credit union that will give you the best rates on your mortgage loan and low- or- no-closing-cost options.
Convenient ATM and branch access: Choose a credit union that belongs to ATM and shared branching networks, so you'll always have access to the services you need.
Robust digital banking tools: In the age of convenient online banking, you'll want to make sure your new credit union has an easy-to-use app (like MyOCCU Online & Mobile) so you can do your banking and make online payments at home or on the go.
Want to learn more about financing a home with OCCU? Our mortgage loan officers are happy to answer your questions. Contact us today to get your home search started.