Introducing Financial Wellness: A new MyOCCU Online & Mobile feature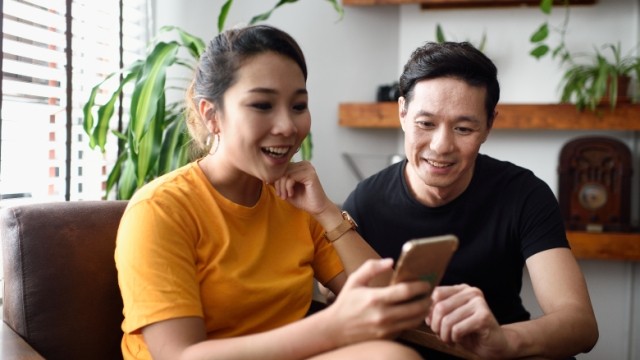 OCCU

-

05.19.2021
We've all worked hard to stay physically healthy this past year. We know that in these times, keeping up your financial health is just as important. Think of your money as a second immune system—one that shields you from the economic ups and downs of life. We're here you help you build up a strong, healthy one.
Your MyOCCU Online & Mobile account is like FitBit for your finances. With our new Financial Wellness feature,  you can use it to easily manage your accounts, track your spending, and monitor your financial health all in one place.

What's personal financial wellness?
Forbes contributor John F. Wasik defines financial wellness as the ability to have a healthy financial life. It means you can cover all your bills, you've got savings to fall back on, and you're prepared to handle whatever comes your way.
It's not just about how much money you have, though. It's also about feeling good about your financial health, both now and in the future. Personal financial wellness is about your money enriching your life and not holding you back, so you can spend more time on the things you love.
The more you stay on top of your finances, the better you'll feel about them—and the more informed your decisions will be. Our new Financial Wellness feature gives you more visibility into what's happening with your money, using simplified transaction titles to automatically sort your spending into common categories like 'groceries' and 'deposits.' It's a new way in digital banking to keep yourself on track and meet your goals for the future.
With Financial Wellness, you have at your fingertips a clear snapshot of your spending. An overview to help you make the best possible decisions to support your personal financial wellness.

How does it work?
This new feature uses machine learning to sift through your purchases and simplify the title of each transaction. This makes it easy to identify at a glance how much of your income is going toward basics like groceries, utilities, etc.
Think of machine learning as a computer program that improves as it goes. Each time you make a purchase, the software gets better at recognizing the source and sorting it into the correct spending category.
 
Here are some simplified transactions examples:
From this title—TARGET #678
To this—Target
From this title—PP*DUTCHBROSCO
To this—Dutch Bros. Coffee
From this title—CHEVRON 0206114
To this—Chevron
Financial Wellness then automatically assigns each transaction to a common spending category—no more manual sorting or assigning! These categories and simplified titles will appear in the Financial Wellness widget, where you'll find a visual summary of your spending by account based on a period of up to one year.
With Financial Wellness you also can:
Check your spending by category and the total amount.
Review your current month's spending versus the prior month's total spending.
Find and edit transaction categories.
View a snapshot of recurring expenses and an estimated monthly total.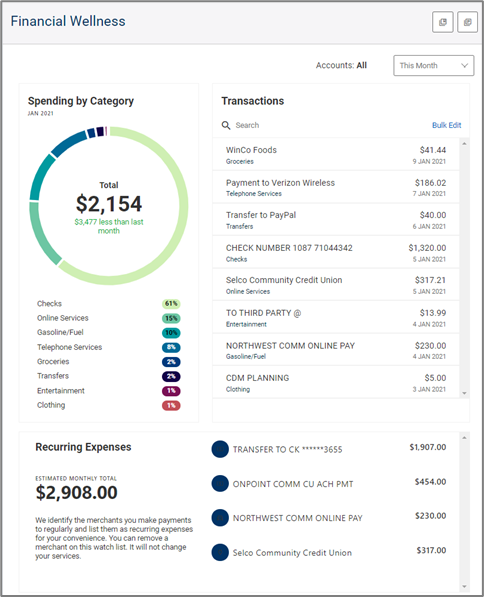 Here's a view from the new Financial Wellness widget.

Stay on track with Financial Wellness
In today's busy world, technology can play an important role in helping you stay healthy and fit. The same goes for your finances. With Financial Wellness, you can monitor and maintain your personal finances without missing a step.
We're excited to keep rolling out new ways to enrich your digital banking experience. To learn more about Financial Wellness and how to get started, visit our MyOCCU Online & Mobile digital banking Learning Center guide here.