A Different Kind of Investment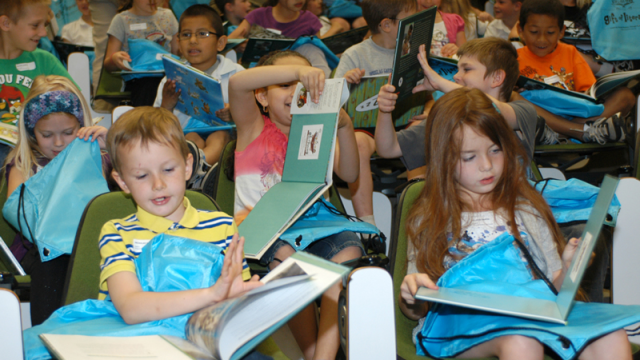 OCCU

-

05.27.2016
Eleven years ago, Springfield students were struggling with their reading scores on standardized tests. Nancy Golden, Springfield School Superintendent at the time, approached the Rotary Clubs of Springfield to ask if they had any ideas on how to bring up the scores and instill a love of reading in all Springfield elementary students. And the seed that would grow into Gift of Literacy was planted.
The Gift of Literacy program enables every first grader in Springfield to participate in a literacy program that donates books to school classrooms, libraries, and to each individual first grader. Since the program was founded by the Rotary Clubs of Springfield and TEAM Springfield in 2006, the Springfield School district saw an increase of their third grade reading scores. Most importantly, Springfield students are learning to love reading.   
 "Gift of Literacy puts books into the hands of first graders," says Katie Styles, who has taught first grade at Thurston Elementary in Springfield for 12 years. "Some of the kids don't have books at home, especially at some of the other schools in the district. They get to become experts on these books."
Each year, Gift of Literacy selects 10 books from a variety of genres and gifts a set of the books to each first grade classroom, thanks to support from sponsors. Teachers and Librarians spend time reading each book aloud and exploring the characters and plots deeper, building appreciation and love for these books, and ultimately reading. The kids are also given individual time with the books before they choose the book that will ultimately become their own. Styles says even when the economy was struggling a few years ago, community donors still managed to completely fund the program. She talks a lot with her students about how the program is funded by the community. "It makes the students feel good that so many people care about their literacy," she says.
At the end of the year, volunteers from sponsoring organizations put together a bag for each student that includes the book of their choice with a nameplate and other goodies donated by sponsors. The books are presented to the first graders at a celebration held at Lane Community College (LCC), where local celebrities such as Mayor Christine Lundberg, Congressman Peter Defazio, and Senator Ron Wyden come help hand out bags and read to the children. This event, held at Lane Community College, leaves a lasting effect on students and volunteers alike. Imagine nearly 1,000 first graders giddy with excitement as they get their new book, in many cases the first book that the child has ever owned. It's worth the investment in both money and time, says Styles. Gift of Literacy is hosted at LCC because they want the kids to see a college campus and imagine themselves there in the future. Spending a day on a college campus is very powerful for children who may have thought college was not a possibility for them, she says.
Doris Towery has volunteered with the program since its beginning  and says it is her favorite volunteer event. "Every year, I tear up when I see it. To stand in this auditorium with it entirely filled with first graders is absolute joy and excitement," she says. "When those kids open up those bags and pull those books out, it is awesome. It's the next best thing to Christmas." 
Gift of Literacy has started providing Springfield Library cards for every first grader and donating copies of the books to the local library. This helps ensure that the program is not over once kids graduate from first grade. And the visitor traffic at the library proves that families make good use of those cards.
"The program is just a beautiful mix of bringing the whole community together," says Towery. "Kids see the community is invested and that we care about them. Everyone is supporting them to be successful. We're proud that it's having a positive impact in for these kids."
OCCU and its employees are proud to be part of that community, says Jamie Opra, marketing communications specialist at OCCU. "We invest in our youth because they are the future of this community," says Opra. "The Gift of Literacy provides the opportunity for students of Springfield to engage in learning at a young age through a fun-filled event. Not only does this program have a lasting effect on literacy rates and student achievement, but it also provides a tangible gift for the students to help them get excited about learning."